Bid books are comprehensive documents used to attract significant events or programs to a particular city or facility. The best example of bid book is when the Olympic committee sends out a request for interested cities to become a host city. The bid book is an essential part of the award submission process. Bid books include letters of support from all levels of government, descriptions of venues, community demographics, accommodation facilities, security, medical services, media infrastructure, telecommunications and transportation networks. The list is exhaustive, but necessary.
In the end, the bid book is all about a promise: a promise to deliver on a dream. It's about assuring a memorable and lasting experience for athletes, coaches, officials and fans. The layout and design of these documents is as important as the content itself. The design expresses the culture and feel of the bidding organization. Is it brash and exciting, or is it elegant and excellent?
These attributes help distinguish a bid from the others competing for the notoriety of hosting this visible community event.
Looking at Toronto's successful bid book for the 2015 Commonwealth Games or Los Angeles submission to host the 2024 Olympic Summer Games, it's almost as if they define the flavor of the games, years before the event actually takes place. These attributes are expressed through the visual elements that hold such documents together. They are selling the future.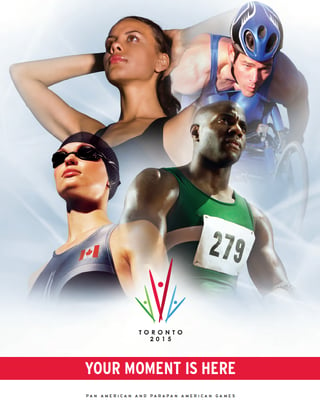 As written in LA's opening paragraph: "Just like our city, creating the most successful, modern and sustainable Games means reimagining everything…" A utopian Los Angeles is then described and represented through imagery. Such ambitions point to a better future – and I'm all for that.
We recently worked with the Richmond Olympic Oval, a 2010 Olympic legacy facility, to develop a bid book to attract the Canadian Women's Volleyball team to make ROO their home. The impacts of attracting a national team to a new training centre have real impact on the community and the sport's influence within the community.
These documents are wildly dynamic to assemble. There are many contributors and a looming submission deadline. Things are constantly changing until hours before the bid is actually submitted. It takes a well-disciplined team to see through the noise of the ongoing "improvements" to ensure the vision of the organizing committee is adeptly represented. But when you become part of a winning submission you feel as if you are part of redefining the future of your community for years to come.