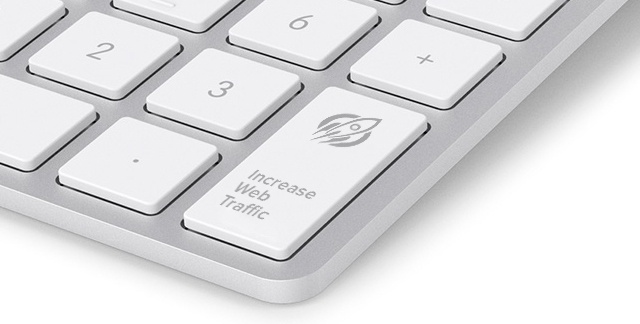 Great, you've built an amazing website! It is one of the first essentials steps for showcasing who you are in a meaningful manner to your audience. Once it's been launched, then what?
Part of your overall marketing strategy is to drive traffic to the website so people learn more about your offering. If compelled, they will start a dialogue with your company. This can happen in many forms: simple requests for more information, the download of a resourceful document (a white paper for example), reading/sharing of a blog, video webinars and/or learning through a case study review, the list goes on. In the end the visitor receives a view into how your expertise/product can assist them, make their life easier and their business more successful.
Driving people to a website has two distinct purposes:
Sales/business leads + lead generation

Awareness and Distribution (of the your brand)
Questions to be answered:
How do you get visitors to your website with your current

content strategy

?

How do you increase bona-fide traffic to your website in a crowded marketplace?

How does your website support your "on the ground" sales efforts?

How do you make people aware of our unique expertise
There are a number of tactics to embrace that dovetail into the larger web marketing strategy your company has established (or should be developing.)
Keep Content Marketing Strategy Updated
We believe an essential issue is about keeping your website content fresh and meaningful. Google, Yahoo and Bing reward those companies whose websites have current and relevant content with higher ranking in organic search listings. This makes sense. Everyone is looking for the most accurate and up-to-date information when browsing. If yours is more appropriate than your competitors', then the traffic will end up on your site.
Keeping your website fresh requires effort. It is a garden that needs constant nurturing (and even some fertilizer every now and then.) You need to establish a content marketing strategy and provide frequency to its distribution. By doing so you are taking steps towards creating a powerful and engaging website that truly supports your online lead generation efforts. Once a person becomes aware of your offering they need to be nurtured.
Nurturing comes in the form of keeping the website's content fresh. The content management system (CMS) has containers to place all your stories and resources: White papers, staff blogs, case studies and videos engage your visitors and demonstrate your expertise.
Even the most ardent gardeners also believe in fertilizing. Fertilizing comes in the form of web marketing that further drives traffic to your website. Unlike traditional advertising, that is industry or demographic specific, today's web tools allow us to be extremely particular about who sees your advertisement through a process called Programmatic Buying. It leverages not one, two or three attributes of consumers' behaviour to deliver a message, but instead employs literally millions of data points to understand all the subtle variations of dynamic consumer segments. We can place ads in front of prospective buyers who already have a relationship with you.
Affordable Online marketing Strategy
We have discovered that many companies run lean operations these days and do not have the dedicated resources to "tend to the garden" and "craft/execute" successful web marketing campaigns. A recent Deloitte survey reported that over 60% of small to medium sized businesses would outsource their digital presence. Companies need assistance with:
Managing and generating fresh content for their websites. This involves establishing a schedule that aligns with budget and resource allocations of your

digital content strategy

.

Creating and executing a progressive laser targeted digital ad campaign that reaches high-potential

business leads

in specific geographic areas.
We also feel it is critical that the web marketing efforts ladder up into a company's CRM tool and be quantifiable. With proven success, more marketing budget can be easily justified. With proper planning and execution combined with constant evaluation (to provide ROI metrics) we know companies can be successful in the new age of online marketing.
If you would like to talk more about this, please call me.