Thinking of your next annual report design? I want to share with you how to use infographics to help take your report to the next level.
I'll be honest, as a designer/illustrator I'm not a big fan of reading, especially when pictures are an alternative. Now I'm not saying reading doesn't have its place, but I'm sure you'll agree that images and graphics are a much quicker and easier way to digest complex ideas/information than a page-long description typed out.
The issue is how do you meet somewhere in the middle and clearly present your complex information without boring the reader to death. Fortunately we have a the solution: the infographic.
Why and How to Use Infographics in Your Company Annual Report
Infographics, or information graphics, are a graphic depiction of information, data or knowledge designed in a way to clearly communicate concepts in a visual format to engage viewers. This clear and visual communication style makes them a wonderful addition to company annual reports.
Not only do infographics get your annual report readers more engaged with your information, they're also a great way to show/reinforce the personality of your company and brand by using colours, illustrations, or icons and graphics.
Pie charts, bar graphs and maps are some of the most basic infographics and have been used for centuries, but modern infographics are getting more and more complicated by pushing the limits of how much information/content can be visually represented in one design.
Instead of showing single bits of data as a graphic or chart, modern infographics visually convey entire concepts. You can use them in your annual reports to tell a compelling story in a fun and engaging way.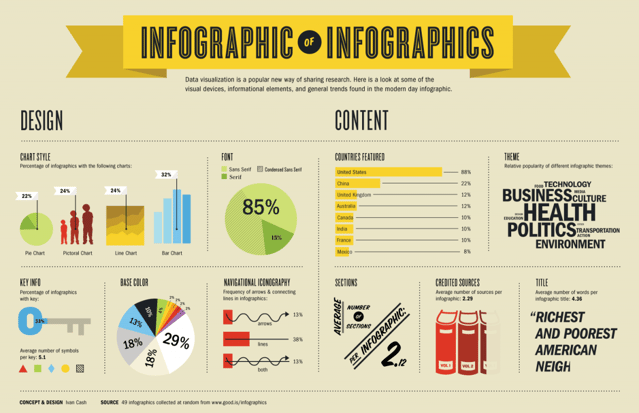 Infographic by Ivan Cash
But creating an effective infographic is much more difficult than just arranging a few charts around a cartoon character. It requires graphic designers to tap into their inner data analyst and journalist as a graphic design project -- to crunch numbers and craft a convincing narrative.
So here are three tips on how to make the most of your infographic:
1. Apply a Code of Ethics
An infographic starts with a great data set. Make sure your facts are legit and represent your data ethically in order to preserve your credibility with your audience. So don't source from blogs or Wikipedia unless you know the information 100% true.
2. Find the Story in the Data
No matter how good a graphic designer is, it doesn't do you any good if the material is poor and can't display the information in an understandable way to the viewer. Start by mapping out the key points in your annual report narrative.
The most accessible graphics are ones that tell a story. Your infographic should have an arc, a climax, and a conclusion. When you find a great data set, mock up your visualization first and figure out what you want to say, before starting the design layout.
3. Make it Personal and Interactive
Many companies create digital versions of their annual reports using animation and video. And as the media becomes more sophisticated, designers are also developing non-static infographics. An interactive infographic might seem pretty 'sexy,' but it's much less shareable.
A video infographic, on the other hand, is both interactive and easy to port from site to site. Another way to involve readers is to create a graphic that allows them to input and share their own information.
Hope that gets you thinking about how to use infographics when creating your next annual report.
Want to take your annual report design from "great" to "out of this world"? Check out our free white paper below.