Planning an online event isn't only about mapping out content, creating slide decks, and preparing presentations (though there is a lot of that).
You also have to entice your audience to attend, keep them engaged throughout the event, and make sure they don't forget about you after they close their browser window.
In this blog, you'll learn about the different stages of event marketing and how to keep your audience engaged each step of the way—from piquing their curiosity with an attention-grabbing invitation email to delighting attendees with a virtual goodie bag.
Before Your Event: Entice Your Audience With a Captivating Email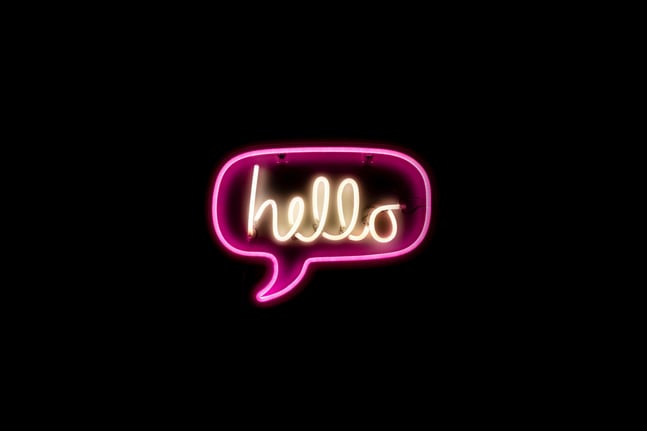 Part of hosting an event is making sure people will attend it.
But what's the best way to do that?
The answer is to show people why they should attend your event. What sets your virtual trade show, and your business, apart from the competition?
You might know you need to convey the who, what, where, when, and why of your event, but it's important to realize that some of these points should have more time spent on them than others.
When equal time is spent on them all, emails get sent out that only explain the event and what it's about. They're bland and uncompelling, only of interest to those who are already your brand advocates.
But if you understand your audience's challenges and goals, you'll be able to craft a message catered to them. And you can accomplish that by leaning on the why behind the experience and telling a story that speaks to the specific needs of your audience.
But communicating why people should attend isn't always so easy, and this is where many businesses can get tripped up.
A simple description of why your customers should reserve time in their calendar isn't enough to get a commitment. This is especially true at a time when almost every event is going virtual, and people's inboxes are filled with similar invitations.
Ask yourself:
How will your event help your invitees?
What new experiences, ideas or skills will attendees leave with?
Prove to them that your event is worth their time.
This email doesn't have to be an essay. A few short paragraphs are enough. Just as long as those paragraphs are tightly focused on the benefits of attending.
For example, our client, Montridge Advisory Group, gathered a group of experts in employment law, employee benefits, insurance, and HR to be part of a panel on safely reopening your business during Covid-19.
They knew the webinar would be important to their clients, but how would they convince them to attend?
They'd showcase the event's benefits.
Fewer than fifty words covered the what, when, and where. Three crisp paragraphs were spent on the who (experts across various fields) and the why.
This resulted in fantastic turnout and a group of HR personnel and business owners more prepared to reopen their business than before.
Don't limit yourself to just an invitation email when attracting potential attendees. An event provides a great opportunity for your sales team to pick up the phone and start calling their contacts. That added personal touch shows that their name is more than a contact in a database, and can be the difference between considering attending and being excited to attend. In a world where so much our communication is done digitally, the old-fashioned approach of a phone call can go a long way.
During Your Event: Connect With Your Audience Using Social Media
A digital event isn't complete without social media. If your platform allows it, having a social media feed gives your audience a way to interact with the event.
Virtual events can feel isolating. It's not easy to connect a group of people who are each in their own office or home, watching your event through a screen. Having a community discussion take place under a unique event hashtag is one way to bring your attendees together.
Social media's messaging capabilities also allow individuals to break-off into one on one chats. If one of your attendees notices someone posted an insightful comment or asked an interesting question, they can engage the commenter in a private conversation.
You could even create LinkedIn or Facebook groups to allow for larger group discussion about topics related to your event and industry.
This shows each individual that they're part of a wider audience. Seeing other people's reactions to what appears on their screens helps bring the entire event together.
Going beyond the benefits of social media interaction, it's a digital marketing mantra that smart marketers meet their audience where they are. Just like we wake up around the same time and eat a similar breakfast every day, we have online routines too.
Sometimes those routines can overpower the novelty of remembering a virtual event that we may have signed up for last week.
Even if you do everything right by sending follow-up emails to remind registrants of the upcoming event and asking them to save the event in their calendar, there's always the chance that their brain tells them to check Facebook just a few moments before your webinar begins.
That's why working with a social media platform that allows you to steam your virtual event is the perfect example of meeting your audience where they are. Even if they forget, or simply check their social media out of habit, your event will be there waiting for them!
After Your Event: Delight Attendees With a Goodie Bag Email
No matter how old we get, there are simple pleasures in life we never tire of:
Surprises
Being thanked for our efforts
Free Stuff
If done right, sending an email after the event to those who registered or attended checks all these boxes.
Sending an email after your event serves two purposes. First, it keeps your brand top-of-mind and shows that you're willing to go the extra step for your clients.
Some businesses settle for a simple thank you email after the event. But this is an opportunity to do something different and set yourself apart. Sending a virtual goodie bag filled with useful content and resources is one way to keep your audience's attention. Some things this email may include:
A recorded video thanking them for attending the event
Slide deck of the presentation
Video recording of the event
Link to further resources
After our webinar, everyone who registered for the event, whether they attended or not, received a thank you email.
Inside contained a note thanking them for their interest in our event and a link to a personalized landing page, containing a recording of the event, links to all the resources and examples used during the presentation, and a checklist they could use while planning their own exceptional virtual event.
Whether you decide to send this email only to those who attended, or to everyone who registered, is ultimately your decision. Keep in mind that just because they didn't attend, doesn't mean they won't watch later.
In addition to the goodie bag email, utilize your sales team once again by having them call each event attendee. The personal phone call shows your appreciation that they took time out of their schedule to attend and provides an opportunity to have a conversation about how the event's content could help their business.
Key Takeaways
Crafting the emails and landing pages so they represent both your brand and your event while engaging your audience is a big challenge. Done right at each stage of the event marketing process, your audience will understand why they should attend and will be glad they did.
In a time where more events are moving virtual, taking the extra time to make your event feel special to those involved can be the difference between an okay event and a smash hit.

Transform Your Virtual Trade Show from Good to Exceptional
Our webinar will teach you how to take your virtual trade show from good to exceptional. We'll cover: tips on developing your virtual trade show strategy, how to use experiential content to stand out from the rest, how to use multiple channels together to create an amazing experience, and more!