Many B2B professionals know that sales and marketing alignment is important to their organizations. However, only 22% of companies consider their sales and marketing teams tightly aligned.
Now, ask yourself this: has my company taken real steps to ensure the sales and marketing efforts are united? Think carefully! If not, we're here to help you get started!
Sales and marketing alignment can be a long and challenging process. (Our post, The Ultimate Guide to Successful Marketing and Sales Alignment, walks you through all the steps that are involved.)
But today there's a lot of CRM software out there to make your alignment process easier and more efficient. The three best ones are HubSpot, Pardot and Marketo.
So in this guide, we'll walk you through one of them— the HubSpot platform—to show you how it can help you better align your sales and marketing operations.
How HubSpot Helps Your Company Align Sales and Marketing
Capture and Monitor Leads to Save Time on Prospecting
Instead of chasing potential leads, connect with people who may be interested in your products or services. You can learn who these people are and track their activity as they engage with your digital assets through the software. HubSpot has a number of effective lead capture capabilities to help you do this. And building landing pages and forms directly within the software makes this process super easy.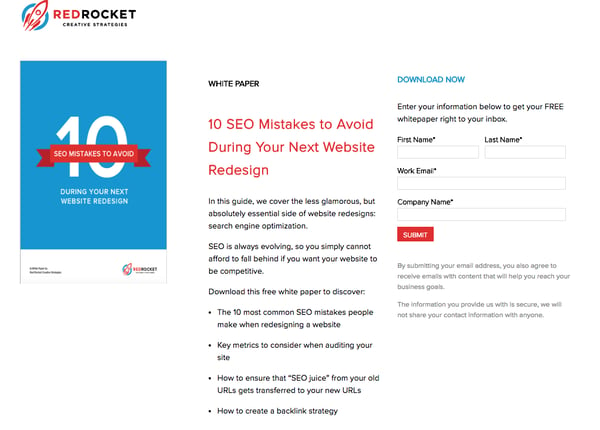 On each landing page, you need to include a form. You can set up forms to capture a visitor's email address, and also discover which buyer persona they fit into:


Once a visitor gives their initial information, you can use progressive profiling to qualify leads over a number of visits. Gradually ask for more information that will help you:
Better segment leads
Improve your personalization
Provide value to leads
So where do the captured leads go?
The leads go into HubSpot's lead database where both sales and marketing teams can access them. From the database, both teams can track all new and existing leads to see how they're engaging with the website content.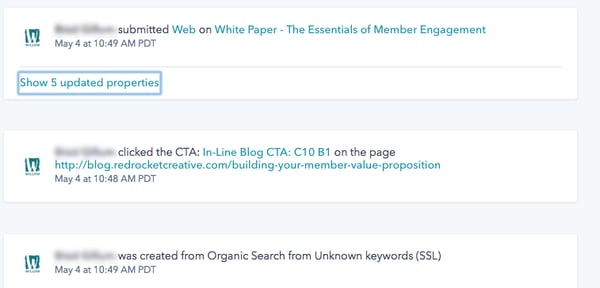 As a lead's list of actions grows, you can learn more about their interests, behaviour and preferences. These actions can also help segment your leads into the correct lifecycle stage. Here are the basics you need to know about each stage.
Subscriber: People who opt in to hear from you periodically.
Lead: People who have given out their contact information in exchange of a content you offered.
Marketing-Qualified Leads: People who have shown consistent interest in your content and even some sales-related offers.
Sales-Qualified Leads: People whom the sales team accepts as worthy for direct sales follow-up.
Opportunity: People in your contacts who are actual sales opportunities.
Customer: Paying customers or clients - our favourite for sure!
Evangelist: Customers who are also advocates of your organization.
With HubSpot, marketers can set up triggers to automate when a lead is switched to a Marketing Qualified Lead (MQL). Sales will be empowered with essential information that will help them make any follow-up calls more personalized.

How do you find out when you capture a new lead?
You may not have time to log into HubSpot every day to see if any new leads have come in. To save you time, HubSpot lets you set up email alerts whenever a new lead is generated from a specific form on your website.

You can also get alerts for when a lead returns to your website, including when they download a gated content offer or visit a service page.


How are the leads organized in HubSpot?

With HubSpot, you can set up buyer persona profiles based on research you've done to determine your organization's ideal customers. Both the sales and marketing teams can easily see:
which leads fall under which persona
how many leads are in each persona group.

Segment Leads to Improve Organization and Efficiency
Lead segmentation is a critical part of email marketing (which we'll get into more later in the blog.)
You can segment using a variety of criteria including:

Persona
Industry
Location
Prospect challenges and interests
Prospect lifecycle stage

Be Uber-Personalized By Showing Different Content to Different Leads
For marketers, your ultimate goal is to create a personalized buyer's journey experience. So you'll want to show leads content that resonates with them. From the content they converted on to become a lead, your marketing team can identify what types of content speaks to prospects the most.
HubSpot has a capability called "smart content" which allows you to show different content to different leads - based on a number of options including:
Country
Device type (mobile, desktop, tablet)
Referral source (how the lead arrived on your website, for example, organic search, social media, email, or via other websites)
Language
Contact list membership (which HubSpot email list are they on)
Contact lifecycle stage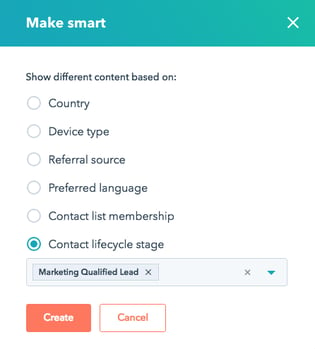 You can also show different calls to-action to different leads using HubSpot's "smart content" feature. This means leads only see content that is relevant to them. For example, if two different leads are reading the same blog, each one will see a call-to-action to a different white paper, based on where they are in the sales pipeline.
Automate Lead Nurture to Convert Them Into Customers
With HubSpot, you can actively move leads through the sales pipeline using a process called "lead nurturing."
How does it work?
Lead nurturing involves sending emails to different list segments, guiding them to engage with other content you offer, and eventually turning them into customers. Since you've already segmented leads into different lists, you can now start automatic email sequences that nurture them through the sales funnel.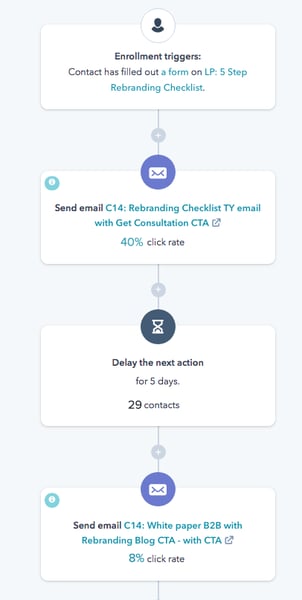 The nurturing workflow also allows you to track a lead's progress from marketing qualified to sales qualified or from opportunity to customer. HubSpot helps you turn qualified leads into sales opportunities. This makes it easy for your sales team to close more deals - achieving the goal of converting leads into new business. As you guide the leads further into the sales funnel, your marketing and sales teams are aligned to work towards the same goal, bringing the lead to the bottom of the funnel and closing the deal.
Create Closed-Loop Reports to Track Performance and Keep Improving
Consistent communication is very important when organizations want to strengthen their sales and marketing alignment. Reporting is essential in keeping each team informed with the KPIs that matter to the overall business's growth.
It's a good way for both the sales and marketing teams to reflect together on what's working well and what needs improvement. HubSpot has closed-loop reporting capabilities that include high level and detailed metrics like:
The number of leads, MQLs, and SQLs that were generated
The number of customers that resulted from those leads.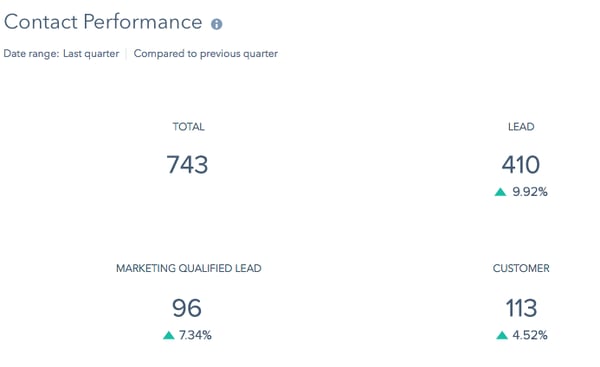 The blog posts and website pages that generate the most leads.

The amount of traffic coming from each channel - and which traffic sources generate the most leads.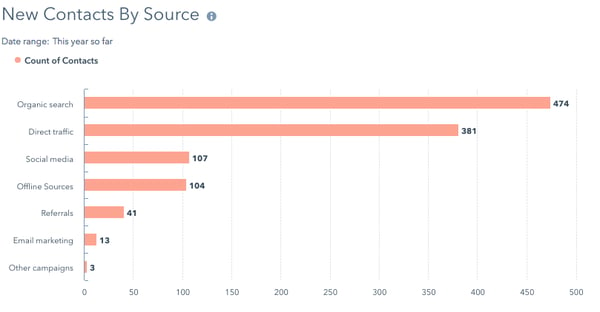 The number of contacts you have within each stage of the sales pipeline.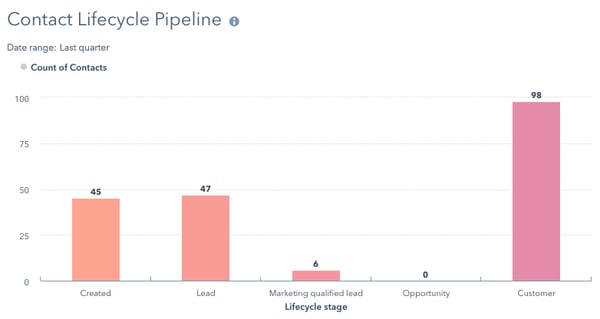 Conclusion
From lead capturing to closed-loop reporting, HubSpot helps your sales and marketing teams be productive and communicate better. It's also key in helping you meet and evaluate the KPIs that matter most to your overall business objectives.
Marketing teams can concentrate on:
creating more valuable content to attract prospects
nurturing leads into marketing-qualified leads
Sales teams can focus on:
following up with sales-qualified leads
closing more customers
Now that you have a basic understanding of the HubSpot platform, are you ready to start aligning your organization's sales and marketing teams with the use of software?
Next Step:
Download The Definitive Guide to Selling Better and Faster. It will give you an in-depth look at how a customer relationship management system can accelerate your business' growth, bring in profitable, happy customers, and empower your sales team.