Right now many businesses are figuring out the best way to use social media.
Whether you already have an active online presence with a community you regularly interact with, or you now find yourself diving deep into your internal passwords in search of your Instagram and Twitter logins, this blog is for you.
Regardless of which category you belong to, there's still the question of what type of content is appropriate for your brand. Clients don't want to hear about Covid-19 from every business they follow, and depending on your industry, talking too much about the virus may not be suitable. By the same token, content that pretends as if there's no pandemic at all won't go over well either.
In this blog post, we will cover three different ways you can share social media content that your clients and community will love.
Share Uplifting Stories
"When I was a boy and I would see scary things in the news, my mother would say to me, 'Look for the helpers. You will always find people who are helping." - Mr. Rogers
Our social media feeds don't need to be solely about Covid-19. Give people a break from the daily updates and reports with some uplifting content.
For instance, John Krasinksi is hosting the show, "Some Good News" highlighting all the good things going on in the world right now. The British comedian, Jimmy Carr, is uploading daily bar trivia quizzes to his YouTube channel. Many Vancouver residents are saluting healthcare professionals at 7pm every night—a trend that has become so popular even the Shangri-La hotel is participating.
There is good news and positivity out there. Look for it and bring it to your community.
Highlight Your Staff
Now is the time to show the human side of your business. Get your employees to take photos of themselves working from home. Encourage them to add humour to their photos.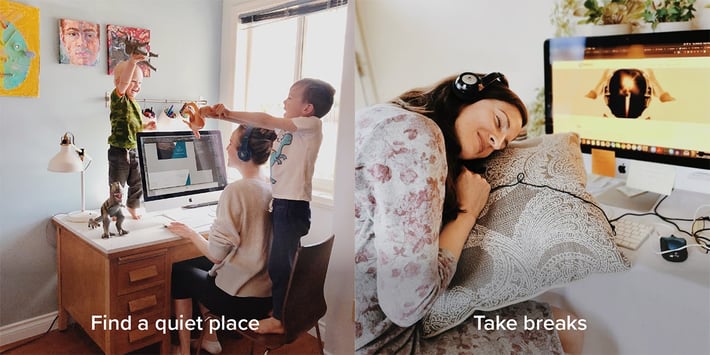 Not everyone has a dedicated home office. Some of us have been forced to work with kids dancing on the table, dogs sitting in our laps, and spouses typing away on the couch. It's not always the ideal place to be productive. Accepting and making light of that fact creates an opportunity for conversation with your clients and community, many of whom are dealing with the same struggles.
Here at Red Rocket, we've seen a lot of advice blogs on how to work from home. Too many, perhaps. So when we were brainstorming ways to share our remote working tips on our Instagram account, we thought it was a good idea to poke a little fun at all the blogs and stories we were seeing.
The end result is a series of posts that are playful, informative, and highlight both our (home) office culture and sense of humour.
Interact With Your Community
People are spending more time on social media, either to pass the time or connect with loved ones. According to Facebook, messaging has increased on their platform by more than 50% in countries affected most by Covid-19.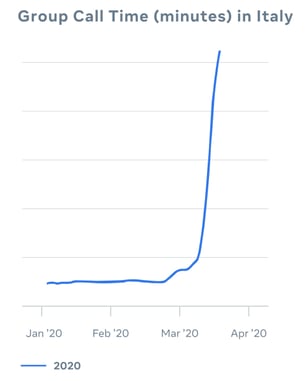 Ask your social media community to share photos of their home office, or photos of them with their pets. Post them to your story or make a collage of all the photos you've received.
Social media is also one of the few places you can get the word out about any service offerings you feel are able to help clients during this time. Our last blog post talked about the importance of connecting with your community, and the utility in finding business services that will help clients through this tough time.
Through social media posts and stories, you can show how these services are helping others.
Perhaps instead of offering in-person consulting, your business is instead hosting more webinars or even offering helpful courses at a discounted price. Encourage people to take photos of themselves watching the webinar and to tag you on social media.
Another great way to interact with your community is to create a fun challenge for them. Fitness company, F45 invites their members to compete in a daily fitness challenge. Their community takes photos or videos of themselves doing the workout and tags the company. These videos are part of their daily story or posts, giving the entire community a chance to come together.
People are searching for connection. Turn your businesses social media presence into a hub for people to connect with each other and feel that sense of community that they might be missing.
Key Takeaways
In this environment, your brand's social media should provide levity. It should bring your community together, highlight your staff, and make your community and clients aware of how your services are helping people during this time.