You're probably hearing a lot about B2B search engine optimization (SEO) these days. And if you aren't, this blog will help you become aware of how SEO can help improve your online presence.
It's one of the best ways for your business to be found in a sea of competitors. But SEO can be complex, especially if you don't know where to begin.
So, to help you out, we've created a list of B2B SEO best practices. We think it's perfect for beginners and a good refresher for those more familiar with the subject.
One of the first things to consider is how search engines like Google, Yahoo, or Bing determine page rank in Search Engine Results Pages (SERP).
Research tells us that search engines use more than 200 different factors (an algorithm) to determine how a webpage is ranked. On top of that, these factors are constantly changing. But there's no need to get overwhelmed - search engine algorithms are beyond your control, but you can successfully create visibility for your content if you structure it properly.
Good SEO starts with simple things you can do today to help improve your rankings. And once your rankings increase, so will the traffic to your website.
So let's get into our 5 tips on B2B SEO strategy, and before you know it you'll be well on your way to being found online.
5 B2B SEO Tips to Get Found Online
1. Choose the right keywords
The keywords you put on your website pages tell search engines what each page is about. This is one of the main ranking factors search engines use to determine where to show your website on the SERP.
When it comes to researching the best keywords for a given web page remember that it takes time to do it right. But it is time well spent, and will lay the foundation for your website's success.
You'll want to enlist the help of some keyword research tools like SEMrush, SEO PowerSuite or Hubspot to help you dig deeper, and find out which keywords you have the best chance of ranking for.
Alternatively, getting in touch with an B2B SEO agency (like Red Rocket) can help you when it comes to choosing the right keywords.
The most important part of keyword research is getting into the mind of your ideal customers. What terms do they use when they are searching for your services or products on the internet? Their "language" may be different from your business' own internal terminology.
You need to eliminate internal jargon and ensure your content contains the same terms your clients use to find your services. You need to be mindful and ask the question, "What problem are your ideal clients trying to solve?"
It's also increasingly important to include localization and dates in your keywords whenever relevant and possible. If you only work in one city, there is no need to compete with a national firm. Make sure your content reflects the local nature of your business reach.
2. Always be creating fresh content
Once you've chosen your keywords, you'll need to use them somewhere!
It's important to know that search engines prioritize websites with fresh content, meaning content that is updated regularly.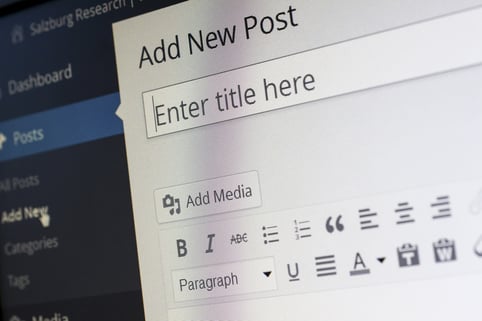 Image source: pixabay.com
And for most businesses, the best way to do that is by regularly publishing a blog. Creating a consistent blogging practice gives you an opportunity to rank for a variety of keywords, while providing valuable information for your website visitors.
Be sure to write original content and avoid duplicating articles you have seen elsewhere. Search engines will penalize you if you are just repeating what has already been written on other websites.
You'll also want to encourage "engagement" with the content you create. This is key to how Google determines your site's value and relevancy. The more views and engagement your content receives, the higher search engines will rank your site. This makes sense. Google wants to present the most relevant content to those who are searching.
If you don't have a strong SEO presence yet, the best way to get views and engagement is through email and social media. This does take time, but the returns are significant.
Here are some tips to get started:
Ensure you have a "comments section" and social share buttons (like the ones below) on your blog pages. This encourages people to comment and share your blogs on their own social media networks.

Grow your social media networks by being active on them. Active is a relative term, but we recommend people post daily on their accounts. This will help increase your social media following, which leads to more engagement on your social posts, and increased clicks to your website.
Build up an email list and send targeted content to your subscribers. Email is a powerful and effective way to get visitors to your site. You can target

specific

content to email list segments, ensuring that people receive content they are interested in and excited to read.
Over time, these methods will increase views and engagement on your content, which signals to search engines that people like what you are doing. It will only be a matter of time before the positive effects are reflected in your search engine rankings.
3. Make sure your website is mobile friendly
As someone who does B2B marketing, you can reasonably expect your potential customers to visit your website via desktop, probably from their work computer.
So why bother with mobile friendliness?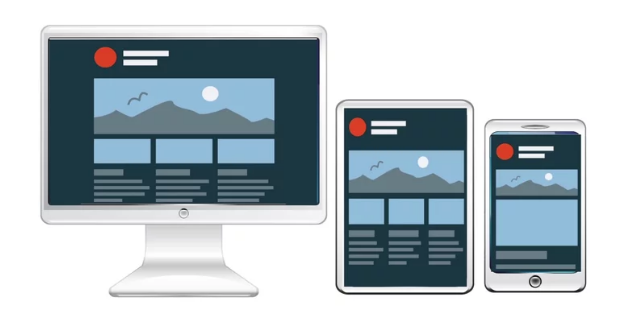 Image source: vimeo.com
Well, search engines have moved toward mobile first indexing. This means Google will start determining rankings based on the mobile version of a website first, rather than the desktop version. If your website isn't device responsive, you're already at a disadvantage.
So take steps now to ensure your website is responsive, fast loading, and the same across mobile and desktop.
4. Ensure your website is https
In early 2017, Google began marking websites using http as non-secure. That means visitors could see something like this when they land on an http site now:

Yikes! We're sure you don't want any of your website visitors seeing that message. Nothing can make them exit your website sooner than an insecure or untrustworthy connection.
So get in touch with a web team who can get you switched over to https as soon as possible. It is as simple as purchasing an SSL certificate. (We can help you with that!)
5. Links, links, and more links
Let's talk about three types of links: backlinks, internal links, and outbound links.
Another ranking factor is the amount of high quality backlinks to your website. Simply put, backlinks are links from other websites that link to yours. If you have a backlink from CNN, that's a very good thing and search engines will reward you. If you have a backlink from Jerry's Shoe Shine Service, that's OK too, but you won't be rewarded in the same manner as with the CNN link.
The more links you have from other high quality websites, the more popular and relevant your site will look to search engines.
Now, backlinking is not always easy, and it can take real time and effort to build up a good amount of high-quality links. So if you want to undertake this yourself, here are some ways to do it:
Be active on social media and share your content on social networks
Get your site on a relevant, trustworthy business listings site
Comment meaningfully on blogs that are in your industry
Participate in relevant and trustworthy forums
The best advice here is to go back to our point number two, and always be creating fresh, high quality content that people will gladly share on social media, and other websites will want to link to.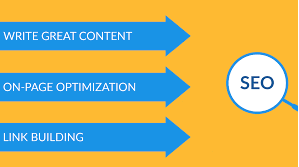 Image source: pixabay.com
Additionally, you should focus on internal links, which are those that link to other pages on your own website. These help visitors navigate and move deeper into your website, which is what every website owner wants right?
The last type of links are outbound links. Your blog content should always link to other reputable sites to establish credibility and show that your website does not exist in a vacuum.
Conclusion
We are just scratching the surface of SEO here, and keeping up to date requires on-going investment in time and resources. But it's an investment that's well worth it in the end.
So get started with the above five tips today to start improving your website's rankings and increasing your traffic.
Have a burning SEO question? Share it with us in the comments and we'll get back to you with some answers.
SEO is always evolving, so you can't afford to fall behind. Download our free PDF guide below to ensure you don't forget about key SEO considerations during your next website redesign.

Digital Marketing Strategist Holly loves communicating with others, sharing information, and building connections. With creativity and technical skill, she uses her storytelling talents to communicate effectively with key audiences. One of her favourite things is helping clients meet their goals, whether that means increasing online influence, acquiring more leads, or growing a customer base.