When assessing your online presence, your website is a key factor, but surely not the only one. A nicely designed website is important, but if no one can find it, much of the time and money you put into building it will be wasted.
Make sure your website, social media platforms, and business listings resonate with your target audience. To accomplish this you need to view the issue through a search engine optimization lens.
Local SEO is more important than ever, as search engines like Google continue to update their algorithm to deliver users the most relevant results. And the most relevant results are, most often, local. Local search focuses on user intent, including distance, relevance, and prominence.
Distance: How close the searcher is to the business location
Relevance: How well the search results match with the user's query
Prominence: How well-known a business is. Search engines get this information from across the web (reviews, links, and directories).
How can local SEO help your business?
Local SEO is an effective way for B2B businesses to market themselves online.
Everyday, people search for businesses, products and other information by conducting local searches. Research by Hubspot found that 30% of mobile searches are related to a location, and 49% of B2B researchers who use their mobile phones for product research do so at work. Even with desktop searches, search engines use IP addresses as a factor when serving results.
Although B2B companies might work with those outside of their local area, optimizing for local search is still central to earning a high search ranking. Even if you are a multinational or national organization, having a local presence is important.
Local offices should be optimized for local search. Many of your potential clients are currently using local search to find the best businesses for their specific needs, so make sure you give your business a chance of being found.
Did you know that B2B researchers do an average of 12 searches prior to engaging on a specific brand's site? Location-based queries are more people centric, which leads to increased conversion.
How can you stand out against the competition?
Show up and make it count!
Try to gain maximum visibility on the SERP (search engine results pages) and Google Maps. To increase your chances of getting found by potential customers, talk to an company who offers local search engine optimization. To get started, here are some tips on how to build a stronger local SEO presence.
1. Get your business listing
The first step to local SEO is to create a local business page for search engines such as Google, Bing, and Yahoo. Ensure the information that potential customers and customers see is helpful for them. The local 3-pack pulls the three most relevant results and serves them to searchers - like in the example below: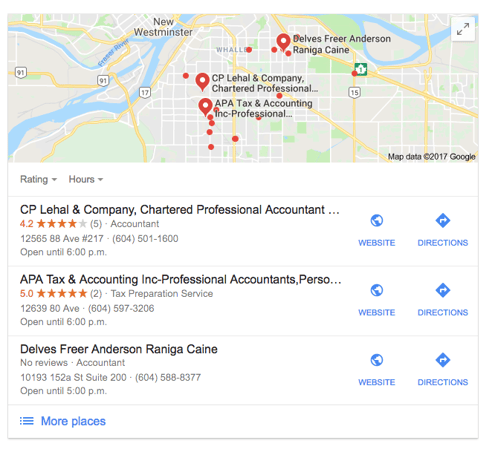 Having your business show on the first page has a significant role in converting visitors into customers and retaining them. It's easy to keep your business listing fresh with new posts and photos, business hours, and an up-to-date link to your website.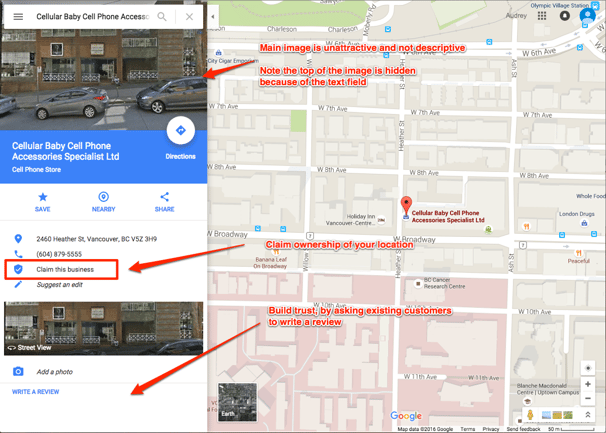 Plus, it's free to list your business and these listings greatly improve your chances of showing up in a search. Surprisingly, many Google business listings are still unclaimed or unmanaged. Find yours and make sure it is current.
Tip: If you have holiday hours, make sure they appear on your listing.
Well-maintained listings get five times more views than listings which haven't been claimed by their owners. Additionally, an unclaimed Google My Business listing may make your business appear behind the times, while an updated listing will make your business appear more engaged and trustworthy.
2. Verify local directory listings
Claim and verify all listings on local directories including Yelp, and Yellow Pages. Search engines see the businesses listed on these directories as trustworthy and this additional information, if accurate and relevant, will improve your SEO ranking.
3. Check NAP Citations

Local SEO experts believe that Google and other search engines cross-reference your NAP (Name, Address, Phone Number) information across a variety of websites as a method to validate the legitimacy of your business.
Tip: Be sure your business' name, address and phone number are exactly the same across all of your online assets like your website, social profiles, and Google My Business/Bing/Yahoo listings.
4. Get those customer reviews
Reviews are another element that influences local SEO. There is evidence to support that Google considers your reviews when ranking your site. They also provide testimonials for your business, which is a key factor in showcasing your expertise, and standing out among the competition.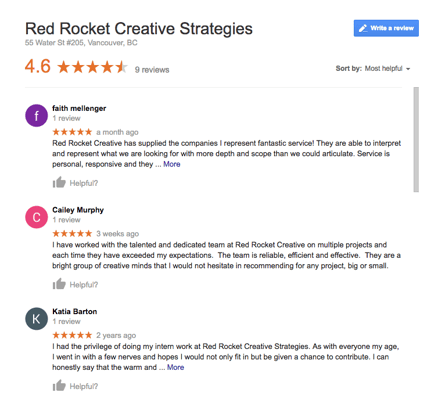 Additionally, reviews are an excellent way for customers to get authentic information about your products and services. Encourage customers to write reviews on your Google, Bing, and Yahoo business listings, and engage with them by responding to their comments. This will help increase your company's online reputation and attract new customers.
5. Localize your onsite content
Optimizing your website for local SEO takes time and planning. There are a variety of strategies that need to be implemented to rank your site higher on SERP. Ensuring your website content is relevant to the searcher will help your ranking results and increase your visibility.
Tip: To do this you must include location information on your site, create unique service pages for each location your business operates in, and include maps on your site. You can also include location-specific keywords to optimize for local and voice search - like we've done below.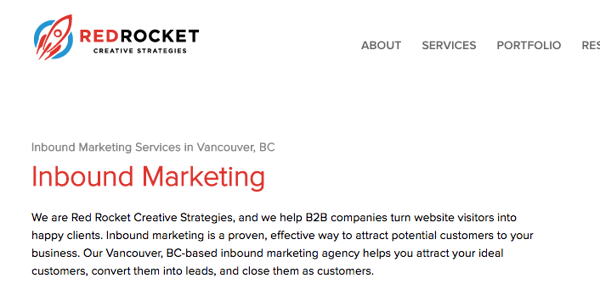 6. Implement schema markup
Schema markup is code (semantic vocabulary) that you put on your website to help the search engines return more informative results for users. The markup tells the search engine what that content means. Schema markup optimization is a very powerful, and underutilized tool for SEO. You can ask your web developer to implement a local business schema on your website.
Here's an example of a product that has markup included on its search result:

Bonus: Discover how people find your business
Digital marketing practices allow you to view live analytics on how your customers are finding you through your website and business listings. This is in stark contrast to traditional advertising, which doesn't provide such data. Your optimization efforts and investment can be tracked and, if done right, attributed to revenue. These quick and measurable results can help you identify what is working and can help you make changes accordingly.
Tip: You can get a higher return on investment through local SEO. This is because there is considerably less competition when you are doing business locally. You have a better chance of getting a high ranking in search engine results when you are targeting a locality.
Final Thoughts
Local SEO is both efficient and cost-effective. Quick and quality information about your business helps your potential customer find you when they need you and based on where you are. These inquiries have a higher chance of conversion and show that your business is trustworthy and relevant.
So don't delay - start working on your local SEO presence!

Director of Digital Marketing Sangeet draws on her business background, creativity and technical know-how to deliver innovative marketing solutions for a variety of our clients.