Where do you get most of your sales leads?
If you're like many sales and marketing managers responsible for lead generation, you might answer: web, trade shows, cold calling, and referrals. All of those are great.
But did you know, you can better optimize one of those channels to generate qualified leads?
Which one, you ask? Your website!
In this blog, I'll show you how to generate sales leads from your website better and faster, step by step.
3-Step Lead Generation Process: How to Better Leverage Your Website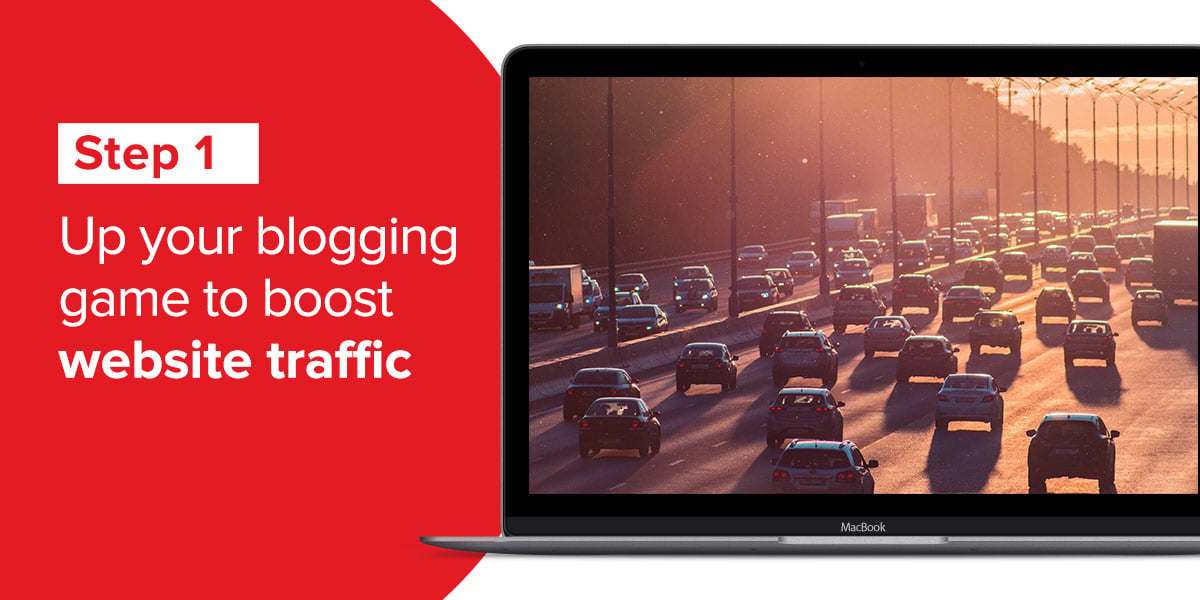 Step 1: Up your blogging game to boost website traffic
You might already have a blog, which is great! That means you're on the right path.
But, is that blog helping you get more sales leads? Can you measure the direct impact it has on your business? (Yes, it is possible for a blog to have a direct, measurable impact on your business!)
Producing targeted and relevant blog posts, tailored to the needs of your customer, will boost your presence on search engines. And the easier you are to find on these search engines, the more website visitors you'll get. The more visitors you get, the more chances you'll have to capture leads. (I'll get more into lead capture in the next section.)
So what do I mean by "consistent"? Well, according to new research, those who publish weekly blogs are 2.5 times more likely to report strong results than those who publish monthly or less.
(Note, there's a big difference between blogs and press releases. Blogs drive engagement, press releases don't.)
Not sure if you have the time or resources to publish weekly? That's ok. Just create a schedule you and your team can commit to. The more you can do it, the better.
(This is a handy place for a plug: A digital marketing agency—like us!—can be an invaluable partner in helping you generate consistent, high-quality content.)
Ok, let's talk topics for a second. Which blog topics will have the strongest impact on your business?
There are three areas to consider:

1. Choose topics that align with business goals
Write about topics that support your overall business goals for the quarter and the year. For example, if you're a fleet management company who's expanding your vehicle resale focus this year, much of your blog content should center around that.
2. Choose topics that solve your prospects' problems
Your topics should also help solve real problems for your ideal customers. Do your ideal customers struggle with lowering their operating costs? Write helpful content with tips that help them achieve that.
3. Choose topics that help your sales team nurture leads
Your sales team will also have excellent insights into which issues your prospects struggle with. Blogging about topics that directly address those issues will help you attract more quality leads.
Worried that your industry is too boring? That no one would care to read about things like preparing fleet vehicles for resale?
I guarantee you there are people out there looking for content just like that. The more obscure your expertise, the more likely your content will connect with those searching for answers to the problems you solve.
And remember, blogging is as useful for retaining clients as it is for finding new ones. Sharing your expertise with clients reinforces the reasons they decided to work with you in the first place. And happy clients are the best source of referral leads!
At the end of the day, publishing helpful content will help you build trust, establish your business as a valued source of industry knowledge, and boost your chances of generating more leads.

Step 2: Give blog readers a reason to give up their email address
Ok, let's get into lead capture.
When people read a blog, they generally don't respond well to a conclusion of "Contact us and we'll help you!"
It's not that they didn't enjoy the read. But building trust takes more than one interaction before people are ready to contact you.
People who read your blog are generally in the "research" (also known as "awareness") phase of the buyer's journey. They're looking for solutions to their problems, and some may not have even properly defined their problem yet.

What you need to do is provide valuable content that truly helps prospects in their research and discovery process. When done well, you'll build trust, and they'll be more willing to give you their email address.
So what's the right way to do it?
Develop data-and-information packed content that provides solutions to a buyer's problem—and then gate that content. Meaning, readers would need to give you their email address in order to access it.
This content could take the form of:
in-depth reports

original data or research

webinars

and more
Done the right way, gated content is a very effective lead generation strategy.
The best part? Once you publish it, it's there on your website. The same piece of content can get you multiple leads over a long period of time.
(Read more: This infographic shows some impressive stats on the benefits of content marketing.)

Step 3: Set up a system to capture and track those leads
So you've got your blog strategy going, and you've gated some of your content to get some leads coming in.
Now, how are you going to capture those leads? And after you capture them, how will you keep track of them?
This is where a good Customer Relationship Management system (CRM) comes in.
CRMs like HubSpot, Pardot, or Marketo make it easy to create forms, call-to-action buttons, and landing pages. Leads are captured through forms, and then housed in a database. All their interactions with your website are logged in that database.
(To learn how a CRM can help optimize your sales and marketing process, see Sales and Marketing Teams: Be More Productive With HubSpot)
Here are some examples of work we did with a national fleet leasing company to help them attract and capture more leads through their website: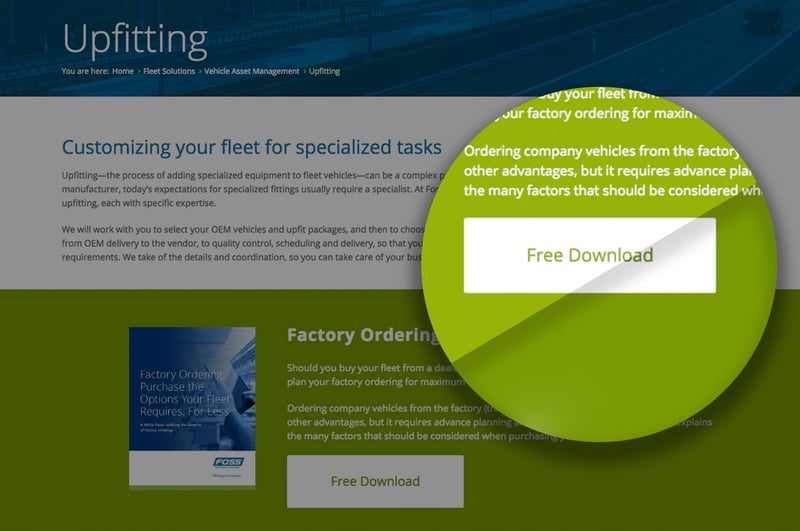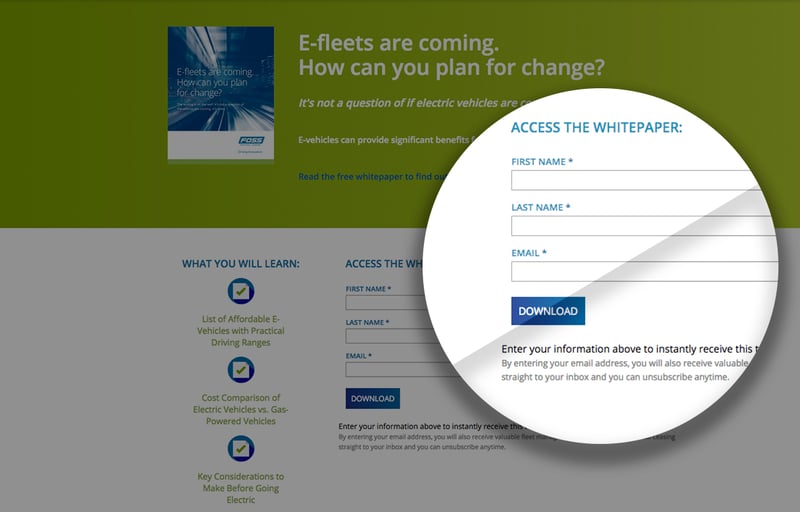 In these examples, website visitors can access special reports by clicking "free download", and then filling out the form on a landing page.
One of the best things about CRMs is that they give you a wealth of data including:
Exactly how many leads were generated by marketing (via content on your website)

The quality of those leads

What types of content leads consumed while visiting your website

How many leads convert into customers
You can show your teams, including your executive team, how well your marketing budget is performing, with real numbers that deliver a clear and accurate picture.
Conclusion
There you have it! If you're looking for an effective way to generate a continuous stream of leads, these three steps are essential. Here's a recap:
Get serious about blogging

Produce some premium gated content

Capture, track, and report on leads using a CRM
Follow these steps, and this will be the year you turn your website into a lead generation machine.
Next Step:
Download 7 Essential Facts About Inbound. From it, you'll learn more about:
How inbound marketing aligns with the sales process
How to create relevant, authentic, compelling content
The process of converting visitors into leads
How leads can be converted into customers

Digital Marketing Strategist Holly loves communicating with others, sharing information, and building connections. With creativity and technical skill, she uses her storytelling talents to communicate effectively with key audiences. One of her favourite things is helping clients meet their goals, whether that means increasing online influence, acquiring more leads, or growing a customer base.