Ballard Power Systems is the world leader in hydrogen fuel cell technology. Ballard has been in the fuel cell space since 1979 and is now the first fuel cell company to power buses for more than 10 million cumulative kilometers of revenue service. Their solutions for fuel cell applications are revolutionizing heavy duty transportation.
They continually develop and improve their fuel cell technology to provide zero-emission power products, as well as customized and high-value technology solutions to transit operators around the globe. Ballard is headquartered in Burnaby, British Columbia, Canada, and has offices in Europe, USA and Asia.
Ballard's Challenge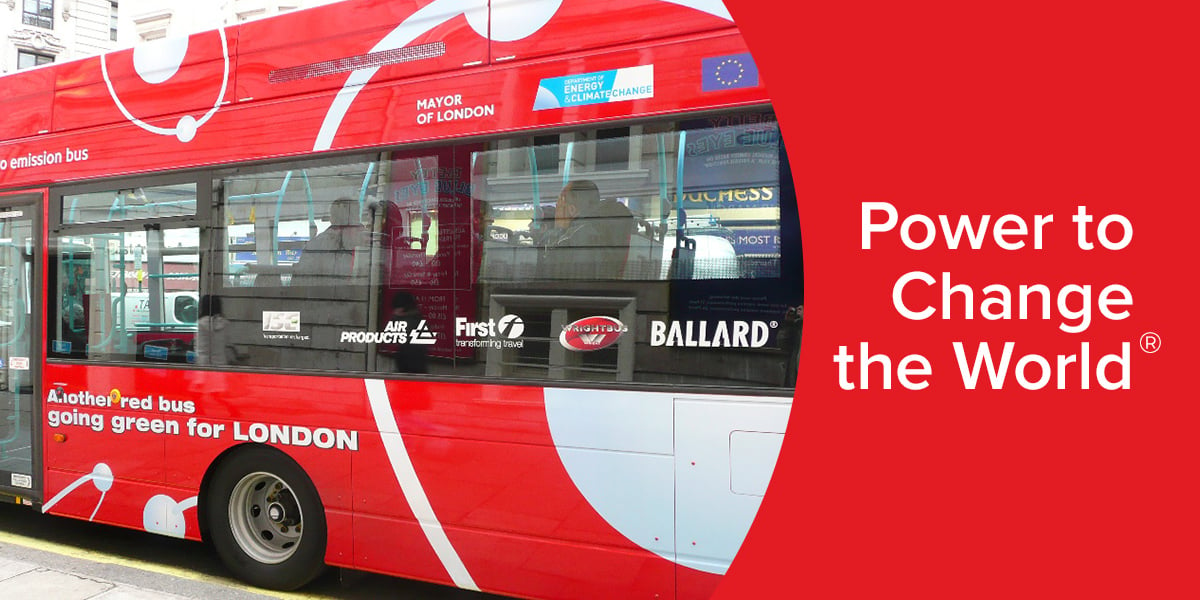 In late 2015, Ballard's marketing team was challenged with ramping up the company's presence. They needed to increase their online visibility among public transit decision makers, government policymakers, and clean technology systems integrators. They also wanted to attract attention and build a community associated with the environmental benefits of fuel cell technology.
So they came to Red Rocket Creative Strategies for help.
After an in-depth discovery, we determined the problem wasn't the existing website. Rather, it was that there was no compelling reason for anyone to repeatedly visit their site. The site needed more content that could be distributed to a larger audience, including stakeholders within fuel cell interest groups. In addition, their legacy website had very few opportunities for lead capture, especially for those people at the beginning or middle of their buyer's journey.
To help Ballard meet their goal of increased brand awareness among their key audiences, we developed strategies to boost traffic and engagement with their existing site.
Our Solution: Inbound Marketing
Discovery and Implementation
Our partnership with Ballard began with a candid conversation, extensive competitive analysis, and a complete audit of their existing marketing program. Our first goal was to position Ballard as thought leaders in the zero-emission public transport community. They are the leading global provider in the clean energy space, but they needed to tell their story better so they could reach the people who mattered most to them.
So, we got to work and implemented a comprehensive inbound marketing program. It included SEO-focused blogs, premium content offers with associated landing pages, social media posts, and email marketing campaigns.
This was something Ballard had never done before, but they are market innovators and recognized the gap in their marketing profile. They trusted Red Rocket to develop and execute this bold move, knowing that they could measure the program's success and use the feedback to fine-tune their online messaging.
Ballard's marketing group and internal team members oversaw and contributed to the digital marketing guidance that Red Rocket put forward.
Laying a Strong Foundation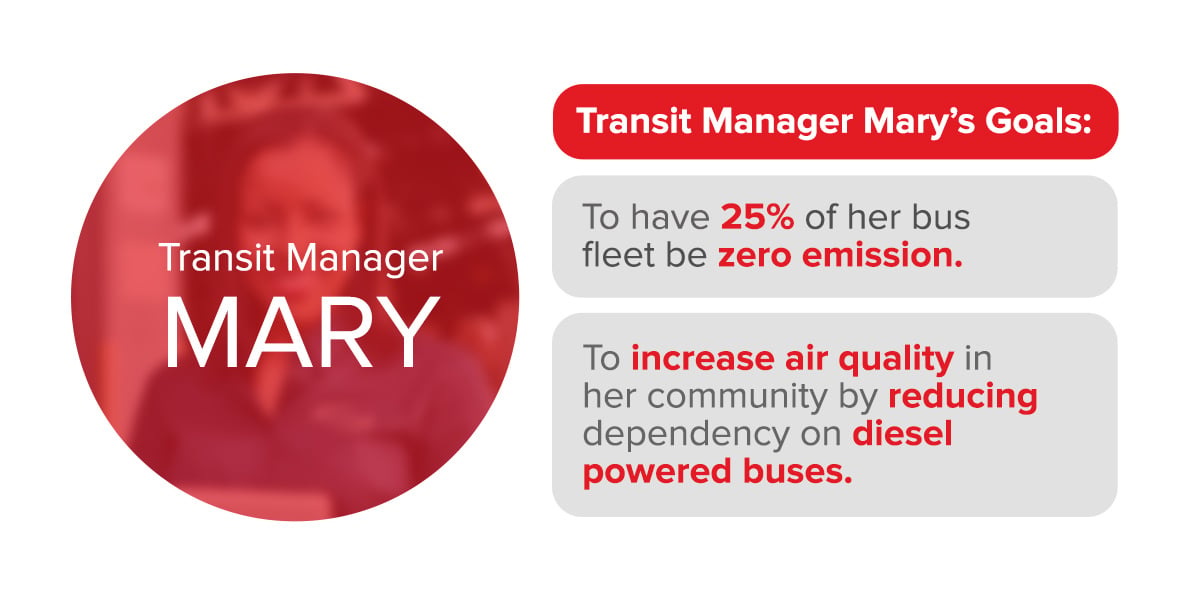 During the initial stages of the program, we worked with Ballard to identify and develop their buyer personas. We defined the industry and position of each persona, along with key challenges, goals, and pain points. Once we had that information, we determined topics and messaging that spoke to the goals and pain points of each persona.
To organize all the elements of the inbound marketing program, we integrated HubSpot with Ballard's existing site. This was key in allowing both the Red Rocket team and the Ballard team to manage and track the performance of the program in real time.
Working with HubSpot, we developed and published the social media, landing pages, blog and email campaigns in one place, all while tracking our progress.
Creating Thought-Leadership Content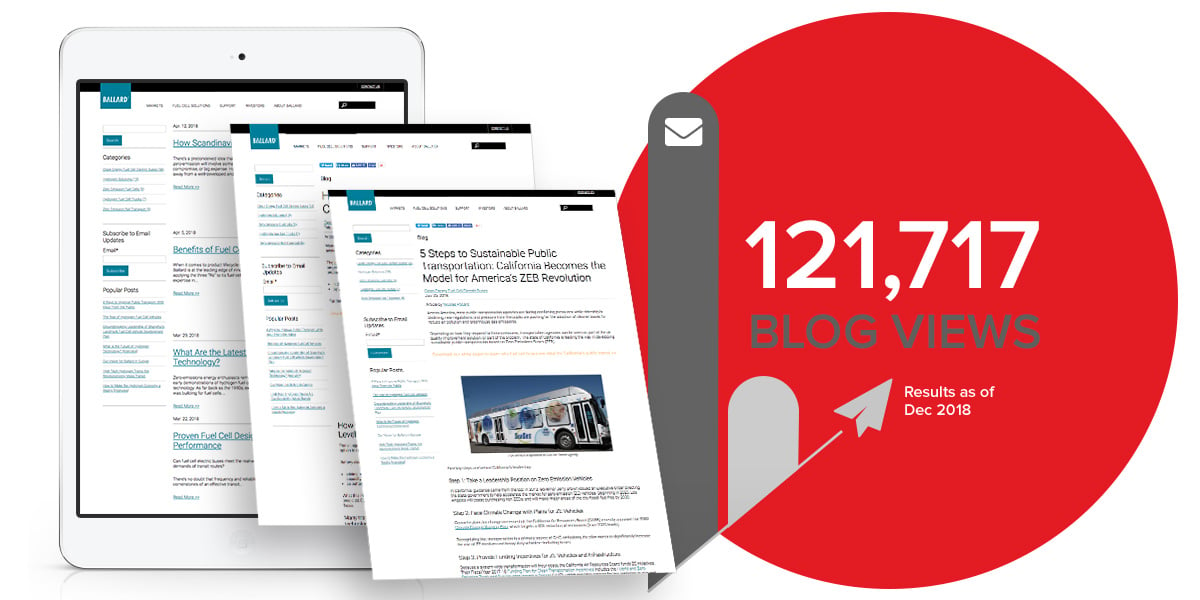 Ballard employs some of the smartest clean tech experts in the world. We had to ensure their team's knowledge was authentically shared with their online community. We conducted interviews with their team, and did our own research to develop high-quality, leading-edge blog content. We also leveraged Ballard's relationships with experts in the hydrogen and sustainable transport industries – in the form of one-of-a-kind interviews published as blogs.
Blogs were search engine optimized – containing keywords that were both aligned with Ballard's brand and with the "language" of their buyer personas. As a result, Ballard now ranks on page one of Google for a number of their target keywords. Ballard's email subscriber list also grew exponentially and their leadership position extended beyond the industry.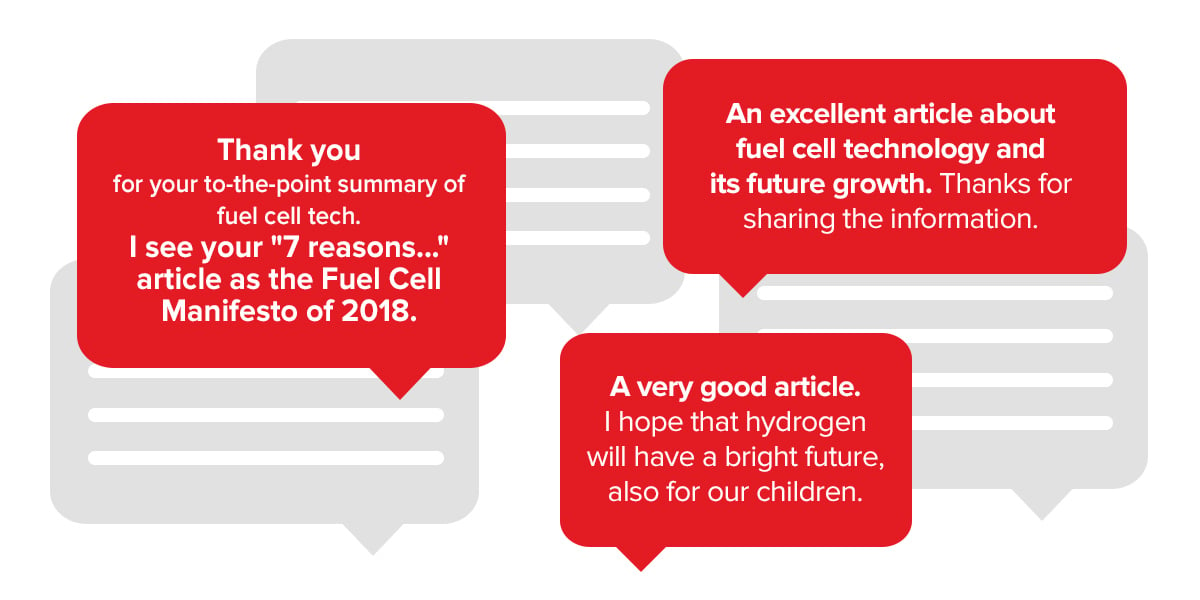 Ballard's blog readership, email contacts, and social media community continue to grow. Many in their community have become brand advocates, enthusiastically sharing content with their own networks. This has led to waves of new readers visiting the website.
Getting Content In Front of the Right People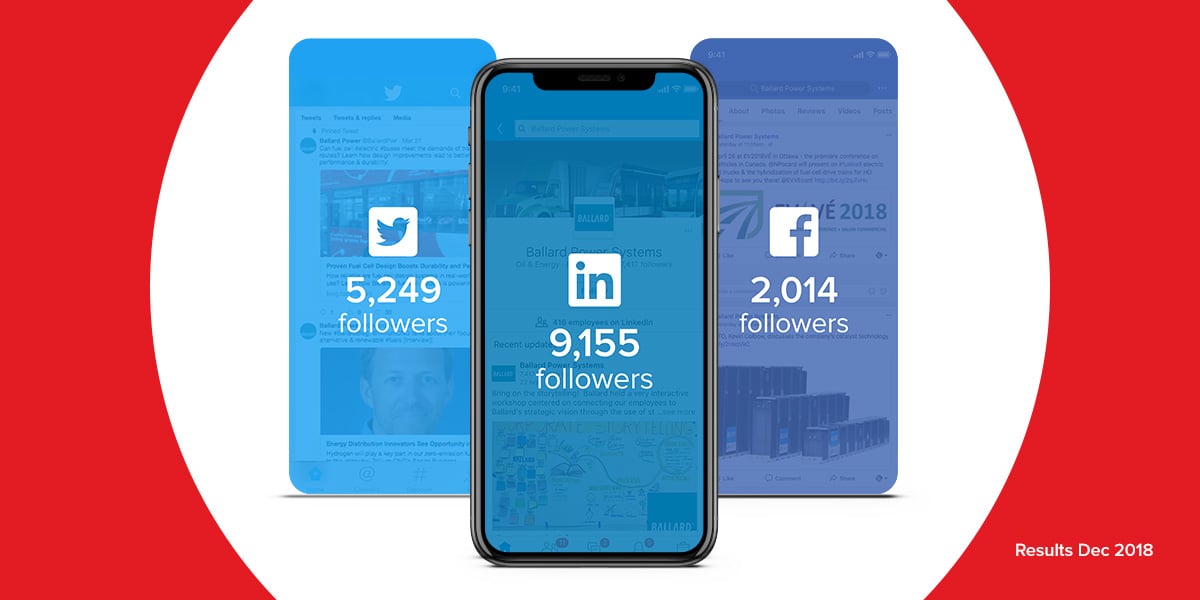 It was essential to grow Ballard's social media network, and engage people who could help spread the word about their zero-emission technology.
Not only did we connect with the general public, we also targeted clean tech influencers whose philosophy was aligned with Ballard's goal of creating a zero-emission future.
To promote the blogs and premium content offers, we developed social media campaigns and sent targeted email messages to a global community concerned about solving climate change. This resulted in a significant influx of blog readership, and visits to the website as a whole.
With all this new traffic, we needed to improve lead capture. To do this, we linked each blog to a relevant landing page where readers can download high-quality gated content offers.
The Results To Date
While working with Ballard, we've produced:
30+ months of social media content on Twitter, Facebook and LinkedIn

95+ blog posts

25+ lead capture landing pages with associated premium content

Original and third party content on social media
Ballard has seen: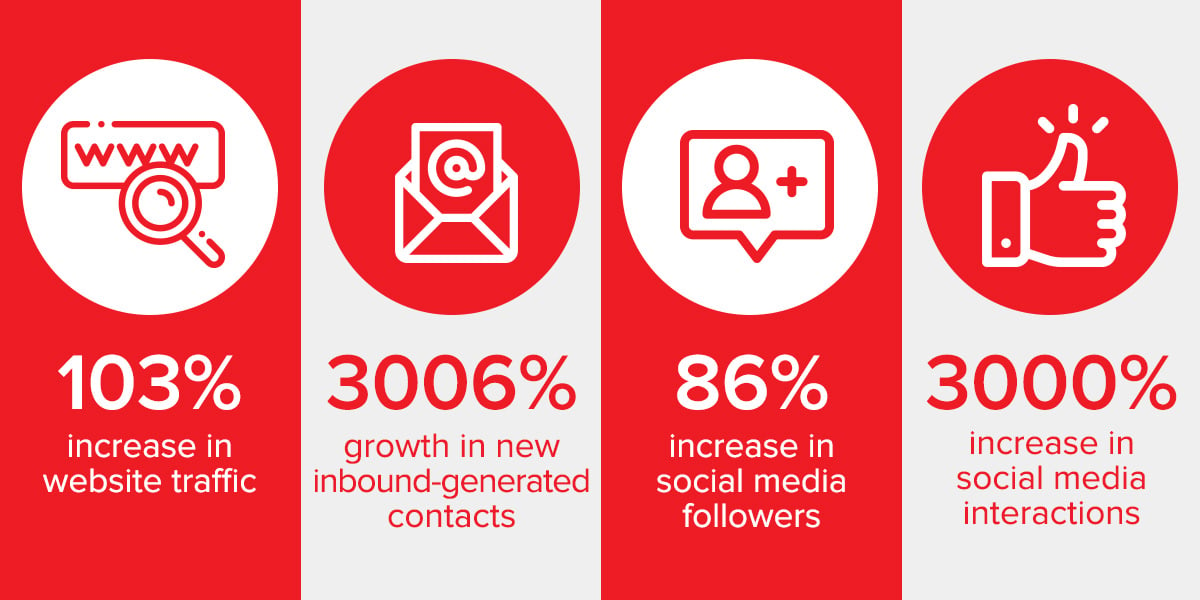 103% increase in website traffic

3006% growth in new inbound-generated contacts

86% increase in social media followers

3000% increase in social media interactions
The Impact: Looking Toward the Future
It's been extraordinary to be a part of Ballard's growth, and become a trusted partner to their marketing team. We're confident that our work with Ballard is influencing how the world sees fuel cell technology, and the possibilities for a clean energy future.
Our partnership continues in 2019 as we implement new tactics to further boost their online visibility and lead generation capabilities. 2018 was Ballard's first ever year of profitability. This is due in part to our efforts to spread the word about this ground-changing clean technology solution.
Nicolas Pocard, Director of Marketing at Ballard, shared this testimonial:
"During the past 2 years, we have been working closely with Red Rocket on our digital marketing campaigns leading to a spectacular increase in our website visitors and smarter presence on social media. Perry and his team have understood and embraced our company vision and market approach to create pertinent content through our weekly blogs and campaigns. They are fully engaged in our marketing strategy. While contributing to new ideas, they deliver top quality execution through the growing number of projects we have given them. I consider Red Rocket as part of our marketing team."
We look forward to building on our successes from 2018, to help Ballard reach new heights in the coming year.

Principal & Marketing Strategist A results-driven creative thinker, Perry is a marketing management professional with a proven record of achievement in Strategic Planning, Team Leadership, and New Concepts Development.