Search engines drive a lot of traffic to your website so it's important to keep up to date with how they determine page rank in Search Engine Results Pages (SERPs). Google alone uses more that 200 different signals to determine how to rank a webpage and the algorithm used is constantly changing.
The content management systems we work with (Drupal and Wordpress) are configured with good basic SEO functionality at point of installation but ranking highly depends more on the quality of your content and how people respond it.
However there are some simple things that you can do that should improve the results of content that you create.
Use a relevant page title. The title of your article is usually used as the 'Page Title' for search results pages. So instead of using a generic title like 'News Release' use something that is more unique and reflects the content of your article as someone may type it into a search engine. e.g.
A related Google search request:
Google's search results without specifying 2012 rank the page lower:
Make sure the first couple of paragraphs of the body (or description field) contain a summary or highlights of the rest of the article. The first few paragraphs of text are usually used as the page's Meta Description and the text that appears below the title and URL of a search results listing. This text may not improve your ranking but it at least gives you control over the text that is displayed in results pages and social media sites:
The first paragraph (or approx 150 characters) of the body text is often used as summary text on results pages and on sites such as Facebook and Google+:
Text shown in bold on results pages are the keywords used in your search terms so it's good to get your targeted keywords in the page title, the URL and the first 150 characters of the body. This helps reassure people that your content is relevant. Here's an example from our client Corbel Commercial:
Keep content fresh write original articles on a regular basis.
Most sites have a Blog or News section that is great for writing content on a regular basis. Try to write original content and avoid duplicating content you have seen elsewhere as search engines will penalize you if you are just repeating what has been written elsewhere.
If you don't feel like sitting down and writing every week, you may also be able to write a whole bunch of articles at one time and schedule them for publication on a certain date and time, say once a week, so that it at least looks like you are updating content on a regular basis. Contact Us if you would like help enabling this scheduling feature.
Links, links and more links.
Getting other people to link to your content is great for increasing your rankings: it was the original way Google calculated the popularity of results pages. Social media is now becoming an increasing important way of ranking content so make it easy for people to share your pages using Twitter or Facebook and get them talking about it.
You can also promote pages on your own site and help visitors navigate by creating internal links such as the contact us links we have in this article.
Create thoughtful outbound links. Link to other reputable sites to establish credibility and get recognized by influential people or businesses.
If you want more control over the content of your Page Title text or Meta Description we can enable separate fields if you would like your page title to be different to your Article title. For example, we entered a custom meta description on our contact us page:
We are just scratching the surface of SEO here and keeping up to date requires on-going investment in time and resources, but will pay off very quickly. At Red Rocket Creative Strategies we can help you setup all SEO best practices and assist in providing the support you may need in developing a long-term strategy and plan to keep the momentum up.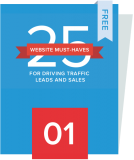 Great Website, But No Traffic?
Learn best-practice tactics for bringing viewers to your website. Download our latest white paper: "25 Website 'Must-Haves' for Driving Traffic, Leads & Sales: Part 1, Get Found."