Recently, we completed a very exciting rebranding project for Glenmore Custom Print + Packaging. This included a new logo and identity system, as well as stationery, business cards, signage and the packaging design shown above. Glenmore needed a sophisticated sample kit package with which they could deliver print samples to their existing and also potential clients. Our solution thrilled Glenmore and they've had a lot of positive feedback from clients.
Through the process of designing this sample kit package, I did a lot of visual research that led me to discover some recent trends in packaging design. Here they are: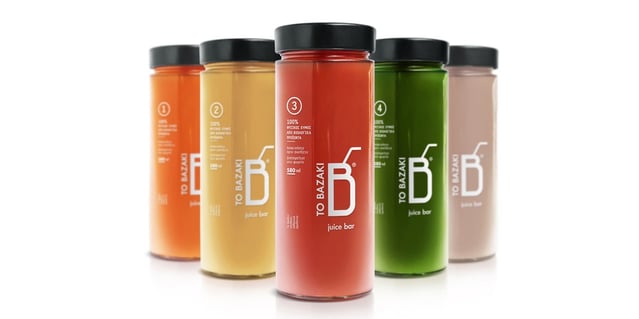 1) Minimalism –
Have you noticed how store shelves can be quite overwhelming with the wide array of packaging? Some with as much copy and imagery on their product packaging as possible? Yet it is the beautifully simple packages that stand out, that Apple's white packaging with minimal text and this packaging above for Bazaki Juice Bar. Minimalism is all about reducing the number of elements to what's really essential and impactful.

2) Collaborations –
Iconic brands are collaborating with illustrators or photographers to create unique, highly collectable, limited edition packaging. Kiehl's collaboration with Craig & Karl artists produced these bold, eye-catching designs.

3) Nostalgia –
Through retro typography or hand drawn illustrations, these package designs bring back fond memories of a simpler time. Purchases are often an emotional decision and nostalgia can play a huge role in consumption preference and human-product/brand relationship. Specifically with food packaging, retro design can evoke memories of grandmother's food handmade with love, and thus motivate you subconsciously to buy the product.

4) Customized –
With new technologies in printing, it has become possible to print variable data quite easily. This means you can have one design with elements such as text, graphics and images that are changed from one printed piece to the next, without stopping or slowing down the printing process and using information from a database or external file. Coca-Cola used this technology for their wildly successful Share a Coke campaign.