I have done a lot of logos and brand developments so far in my short career (just over 75 individual brands or brand updates). And I often find clients are confused about the difference between a logo and a brand.
To help clarify the issue, the main analogy I like to use is the 'anatomy of branding.'
But first things first: a logo is NOT a brand. Please don't ask me to help 'brand' your company by just creating a logo; a logo alone is not a brand. Although the logo is one of the single most important elements when creating a compelling brand, it alone cannot accomplish or communicate everything a well-developed brand can.
There is a lot of conversation and argument in the design community about how to define a 'brand' in a way that helps everyone understand it, but there really is no one clear way to explain it.
Most designers that specialize in branding have a certain knack for it, and in my opinion it comes down to being able to read and understand people and their needs. Not only the client that's hiring us to develop the brand, but also their employees and customers.
You have to know all the people involved in and around your company in order to create a brand that properly reflects who you are.
Here is a quick breakdown of how I like to explain what branding is.
The Anatomy of a Healthy Brand
Your company is like a person.
It is an individual and has its own unique look, style and personality. These traits are what you use to interact and engage with your clients. It's no different than trying to meet someone new at the pub; if you come across in a way they don't like then they won't stick around to get to know you.
You have a limited amount of time to sell yourself so you need to make the most of it and present yourself in a clear, understandable way.
So when you're trying to define what you want your brand to represent, think about it like this: your company is like a blank person that you can create and mold. Make it look and interact with your clients in the exact way you want.
The Logo (AKA the Face)
Your logo is like the face.
It's a small component overall, but extremely important. It is the first thing people will see, recognize and associate with your company, now and in any future interactions. So you need to decide how you want people to identify you.
Logos have huge potential to explain everything your company is about in a very simple way. One graphic can explain a whole gamut of personality and emotions in the same way a single facial expression can.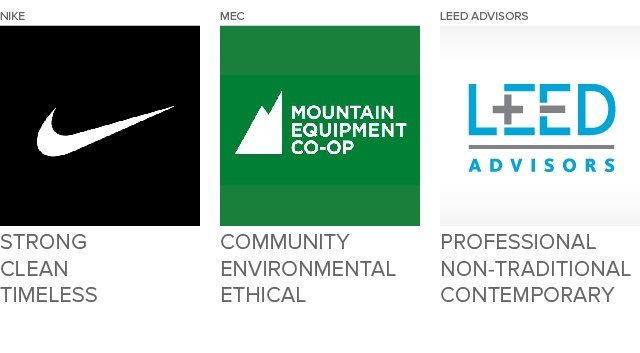 The Brand
So if your logo is your face, then your brand is the rest of your body. The brand contains the supporting graphics work with your logo to visually communicate your company's traits properly.
Supporting graphics are the additional graphics or imagery that work with and reinforce the logo. I like to think about the brand in two ways, the body and the personality. They are two parts working as one to express who you are in an engaging way.
The Body
The body is the physical appearance of the graphics. It's the colour, movement and shape of the supporting graphics. Supporting graphics can reflect your company in the same way people can express emotions/personality through gestures, motion and dance.
What do you want people to think when they see you? Professional, Modern, Youthful, Environmental?
The Personality
The personality is exactly what it sounds like: it is the tone and voice your company has when communicating directly with your clients/customers.
The tone of your communications should work alongside the supporting graphics and reflect one another so the messaging and style between the two are consistent.
What do you want people to think when they hear from you? Friendly, Approachable, Cheerful?
When you use these two components consistently alongside your logo, you can start gaining recognition, familiarity and trust with your clients. And trust builds loyalty.
The Inner Workings
And finally, the people within your organization are like the brain, heart and internal organs. They are the unseen but essential components that make your company run. Your logo and branding are only the visible representation of what everyone involved stands for, and need to reflect it.
What about rebrands?
This is becoming more and more common; companies have a look and brand but feel like it either dates them or doesn't really represent what their company has evolved into. When doing a rebrand, the same rules listed above apply, but it's more like a facelift. A company rebrand needs to keep the components of the logo that are recognizable while updating the look.
You don't want to lose any existing clients by changing completely, but need to try and appeal to new ones.
FInal Thoughts
Since every company has different needs and goals, they should be reviewed individually to determine the best approach to make the brand truly unique to their company.
A brand is a complex entity. I hope this article has helped effectively identify its different parts.