Why does every strong brand need a defined brand identity guideline, also known as a graphic standards manual?
Let's take a look at an all-too-common scenario.
You've just invested a great deal of time and money in developing a cool new logo for your company. It took a while, but the branding agency you engaged has developed a complete brand identity that you're truly proud of.
Your goal now is to apply this new vision to several of your marketing materials in preparation for an upcoming B2B trade show event your company is participating in.
As time is short, you're looking to quickly update the company website, re-skin the tradeshow display, and create a new printed brochure that will inform your audience of your products and services.
You've sent the new logo set to three suppliers: your webmaster, the signage company you always deal with on your displays, and your graphic designer who has all the content for the new brochure.
Although these suppliers are all working independently of each other, they've all worked with you before.
They know your style and the tight deadline they've agreed to – what could possibly go wrong?
Brand Identity Guidelines
and Why You Need Them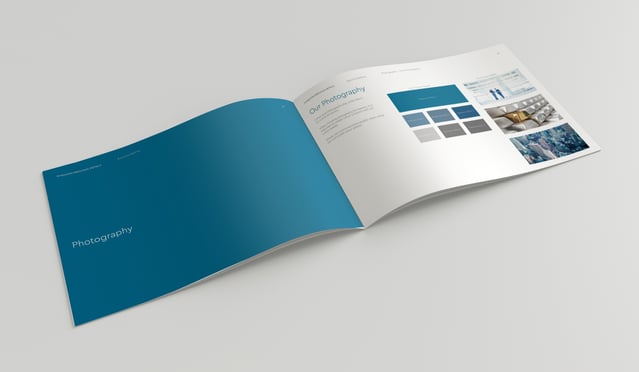 A Graphic Standards Manual we created as part of a rebrand for Wheaton Precious Metals.
Without brand identity guidelines or some form of a graphic standards manual (GSM), your new brand identity doesn't stand a chance, certainly not long-term.
The moment you unleash your new logo set to the world without a GSM is the exact moment your new brand starts to lose its reason for being: to clearly identify your company in a recognizable and consistent manner.
A brand has many variables, and there are far more liberties a third party can take with your brand than you may realize.
In this case, your webmaster, the signage company, and your graphic designer will each apply the logo and brand, combined with imagery and text, as they see necessary.
This will likely result in three different looks entirely.
Any brand integrity you were hoping for will be non-existent. Furthermore, your corporate brand will instantly begin to get watered down, resulting in a disjointed visual presence.
How Creating a Brand Identity Guide Can Help
In creating a brand identity guide, you'll have a set of rules that pre-defines how visual brand identity is to be applied.
It defines all the graphic details necessary for the consistent application of all elements that make up a brand. Some more thorough guidelines can even define the brand personality and the tone of voice to be used.
A basic brand identity guide should include the core elements that make up the brand such as:
Logo Options:

a complete list of all available logos and icons, file formats, and colour space of each.

Logo Placement:

defined measurements of minimum clear space and logo sizes.

Logo Do's and Don'ts:

examples of acceptable and non-acceptable applications of the logo in different situations: dark backgrounds, drop shadows, rotated etc.

Tagline Uses:

If your

company has a tagline

, how is it to be applied (or not) in conjunction with your logo?

Colour Palette:

defined "primary" and "secondary" colour palettes complete with colour breakdowns for each in a variety of colour spaces and systems (Pantone, CMYK, RGB).

Typography:

definitions of your corporate font and how it's to be applied; from headings to body copy, sizes to colours.
More thorough brand identity standards can define your brand even further, including for specific collateral elements such as:
Graphic Elements:

the application of developed background or secondary graphic elements that will help define your brand.

Photography:

a defined style of photography including subject matter, composition, and tone.

Brand Personality, Style, and Tone:

who your audiences are and how you speak to them; writing style and defined language.

Stationery:

business cards, letterhead, and envelopes defined; I's dotted and T's crossed for consistent execution.

Digital Suite:

e-signatures, PowerPoint, and online applications; a combination of established typography, colour, and supporting graphic elements.

Advertising:

print or online advertising; a solid foundation from which to build a variety of corporate ads.

Displays and Signage:

established parameters with which to display your brand; tall and proud.

Promotional Items:

from pens to golf shirts; from recommended logo applications to some less traditional (but equally as important) requirements.
Final Thoughts
As you can see, there are several elements that can throw a brand off the rails depending on who's driving it.
Clearly defined brand identity standards will ensure your newly developed brand stays on track for the duration of its journey.

Principal & Marketing Strategist A results-driven creative thinker, Perry is a marketing management professional with a proven record of achievement in Strategic Planning, Team Leadership, and New Concepts Development.