In our previous blog on articulating your value proposition, we talked about the 4 steps required to diagnose whether your value proposition is effective. To refresh your memory, those steps are:
Start with your customers and not your product/service

Map how your products/services create value

Tweak or craft your value proposition

Test it!
Once you have a solid understanding of your value proposition, the next step is to communicate it to the world; your customers, prospects, employees, and other stakeholders. Even though your value proposition isn't directly shared with clients, it forms the basis of every product or service you create, as well as guides your marketing and communication strategies.
Reminder:
A value proposition is how your product or service solves/improves problems, what benefits clients can expect, and why clients should work with you over your competitors.
Stress test your value proposition before you share it with the world
We briefly went over testing your value proposition in part 1 of this blog, but now it's time to further test how you'll be communicating this value proposition to the world. To do that you can stress-test it in the meeting room and validate it in the market.
The success of your value proposition depends on how your audience perceives it. Your customers and clients are most likely your primary audience, but there might be others, such as employees or key stakeholders within your company. Pick the most important ones, and organize role-plays, or create prototypes of ads, product sheets, and other assets to evaluate your if you are effectively communicating your value proposition. You can also do some A/B testing with visual branding and messaging to assess which are a success with your audience.
Some tips:
In a B2B context think of customers, as well as end users, influencers and decision makers.
Take the point of view of the company's leadership team. Give feedback on the communication strategy from the perspective of the company's vision, direction, and strategy.
Will investors/shareholders support or resist the value proposition that you have developed?
Simulating the voice of your customers and additional stakeholders to imagine their perspectives will ensure that you are in fact communicating an effective value proposition. Now you can focus on broadcasting this message effectively.
Craft aligned messages
When your customer sees an ad on Facebook for your product or service, looks at your website and then talks to your salesperson, do they receive consistent messages about the value you provide? If not, you are missing out on the opportunity to build trust and convey your true value to the customers.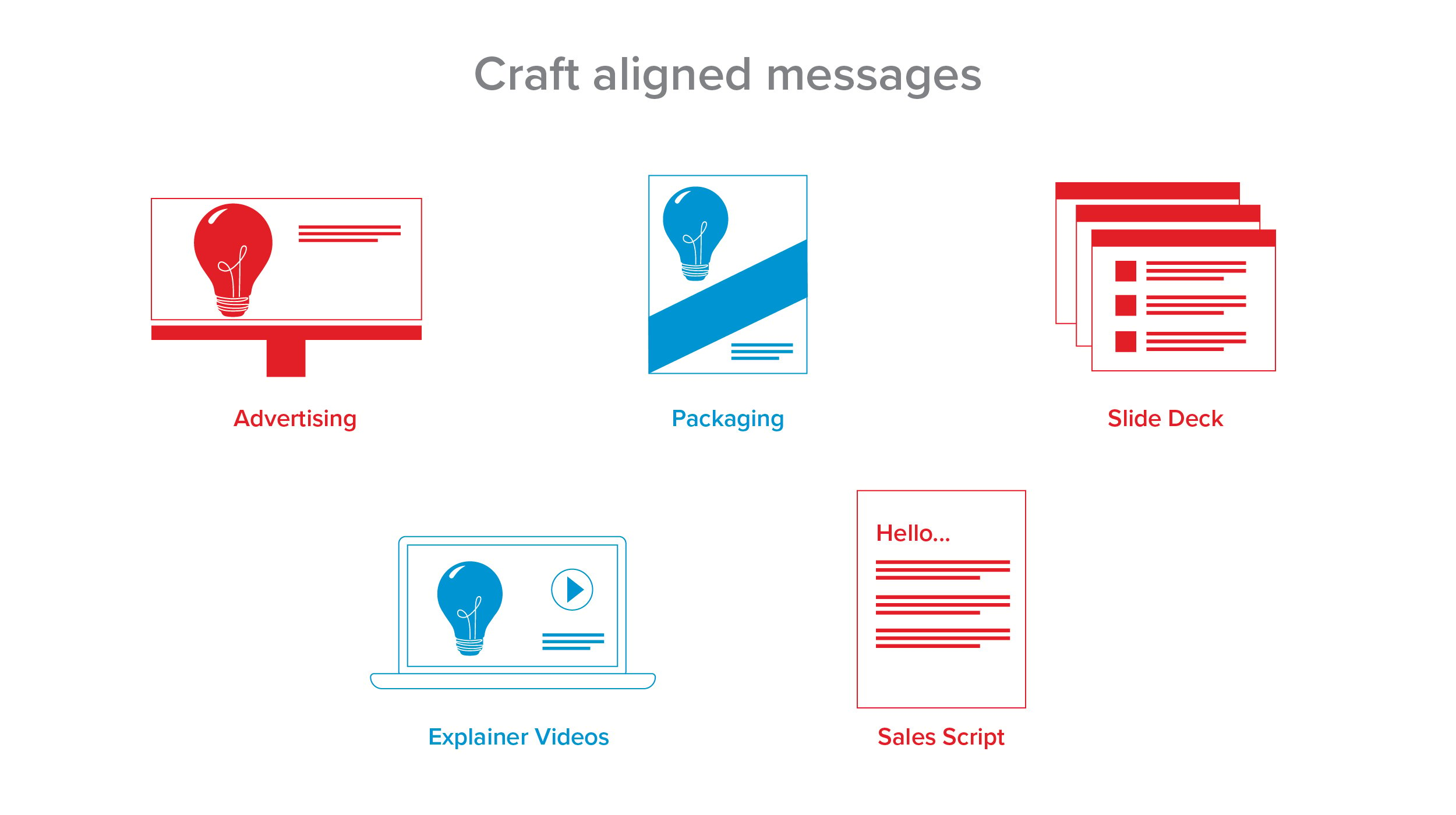 It's crucial to create a consistent experience across all touchpoints with your branding. Often we think of this as your logo, colours and imagery - this is only visual branding. Your value proposition is the foundation of your brand and needs to be conveyed in your marketing/communication efforts. Especially in the B2B context, your messaging needs to match the key benefits and value that a customer will receive from purchasing your product/service. Yes, you can do ads, based on your latest sale or on a holiday promotion - but this is a short term approach that is only successful after you have built trust, your customers know who you are and the value that you bring to them.
Spending resources on marketing, when you haven't worked on your value proposition or branding often leads to failure.
Get employees and sales on board with the value proposition
Help employees understand which customers you're targeting and which jobs, pains, and gains you're addressing. From sales, to product teams to the shareholders, everyone should be clear on how your products and services create value for your customers.
The sales teams should be equipped with the knowledge of who to target and what their pain points are. More often than not, the sales team is unaware of the emotional benefits that your service or product helps solve. Highlight the attributes of your value proposition most likely to persuade this audience without having to compete solely on cost. Make sure that the sales scripts, pitch decks, and any other materials are aligned with the value proposition to best ensure that this happens.
Product teams should also be informed of the value proposition, so they don't end up making products whose features work against the brand and value proposition. We want to make sure that the products/services we create are actually helping our identified customer segments
Explain to your shareholders how you create value for your customers. Clarify how the (new and improved) value proposition will bolster your business model and create a competitive advantage that brings returns.
Getting marketing to communicate the value proposition
Align customer facing messaging on everything from advertising to packaging design. Although your messaging will change slightly depending on your audience and channel, it's essential to have consistency. Consistency means your target audience is being exposed to core messages, visual branding, and other brand elements repeatedly, which will help solidify brand recognition. Having inconsistent messaging leads to a lack of trust, ambiguity around what your competitive advantage is, and ineffective branding.
Also, never just pitch features. Instead, think about how your solutions lead to the benefits your customers are looking for. Explain how you'll remedy their pains. For example, if they are short on time, convey how you'll help them save time, rather than focusing on your product or service's features.
Making sure that your communications are customer centric, and tell a well thought out story of how your solution will help. The visuals and messaging should be based on where the client is in their journey. Customers want simple and tangible explanations of what your offering is along the way. Do this by presenting what matters at certain points, rather than everything at once.
Final Thoughts
Communicating a compelling value proposition is well within every company's ability and means. You need to start by focusing on the pains, gains and jobs that you are trying to solve for your customer segments, make sure that all your teams understand this and build this into whichever part of the puzzle they are working on. When this becomes embedded in your business and process, then it's much easier to communicate. And when communicating it, make sure it remains consistent and clear - so you stand out of the crowd.

Director of Digital Marketing Sangeet draws on her business background, creativity and technical know-how to deliver innovative marketing solutions for a variety of our clients.