In 2022, having a sustainable approach to doing business is a key factor in winning over investors, retaining and attracting top talent, and positioning your business as an industry leader. Sustainability reports are an excellent medium to communicate the voice and tone of your brand, highlight sustainability initiatives of the year, and include unique content such as development goals and a personal message from the CEO. In this article we will provide you with further details into how to tell the right story when you create annual sustainability and ESG reports to ensure that your message is getting delivered to your brand's ideal audience, so you can reap the benefits of sustainability reporting in 2022.
How to Create Engaging Sustainability Reports
It is important to differentiate sustainability reports from annual reports. Both are corporate communications designed and presented to tell your brand's story and win over its audience. The difference between the two is that annual reports are created to present a brand's financial positioning and business operations of the past year, whereas sustainability reports communicate everything that is happening with a company and the outside world.
Successful company sustainability and ESG annual reports help differentiate you from your competition, and strengthen relationships with your stakeholders. Sustainability reports are an integral piece of content in your corporate communications, and can be distributed digitally, in print, or on recycled paper to add an eco-conscious flare. For more sustainability and ESG report inspiration check out this company annual report sample, Suncor report on sustainability.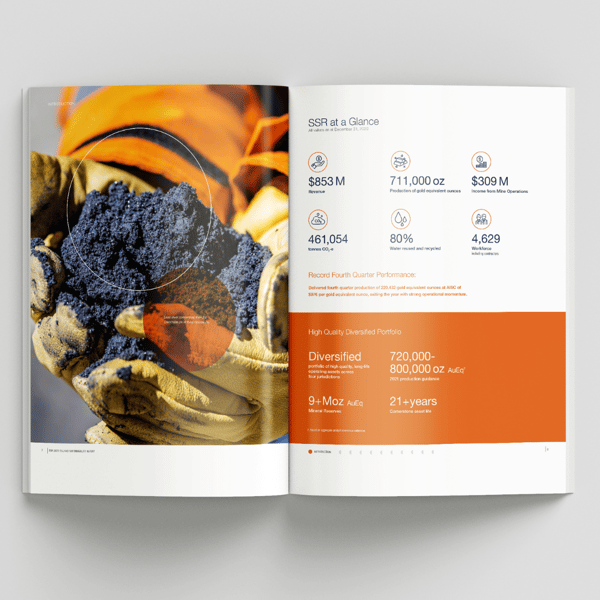 Sharing your sustainability and ESG report is the best medium for you to contact your organization's key stakeholders. While presenting your annual figures in a concise and transparent way, you are also able to communicate your management's strategy and enhance the credibility of your brand. Top tip: ensure that your company's personal approach to sustainability is included in your sustainability and ESG report to provide readers with a glimpse into your environmental efforts.
Your annual sustainability and ESG report should be an interactive document, as statistics show that the majority of readers spend just a few minutes skimming the report for key metrics. If you design and write your report making it easily readable and attractive, you can reach your audience and help them absorb your most important information while telling a captivating story and winning over your audience.
7 Tips for Creating Engaging Company Annual Sustainability Reports
Know your Audience
Identify your key audience. You may have a number of potential audiences, but it's important to determine who you are targeting. You want to be sure you include the information this specific audience is looking for in a voice that resonates with them. By knowing your audience, you are able to articulate your value proposition clearly within your sustainability and ESG report and win over your audience.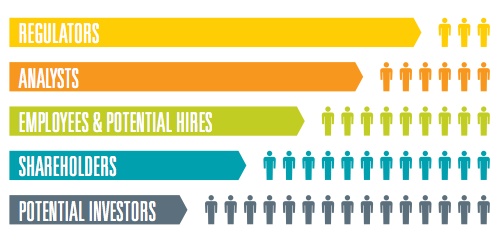 Tell your Story
What is the story you should tell this year? Despite your report containing the financial must-haves, consider telling your unique sustainability story alongside them. How can you reflect on your progress in the past year and share it with shareholders and employees? Have there been specific occurrences such as yearly sustainability highlights that showcase new environmental initiatives? Your company sustainability and ESG report is a method of reinforcing your branding. Make sure it reflects your brand's tone and style.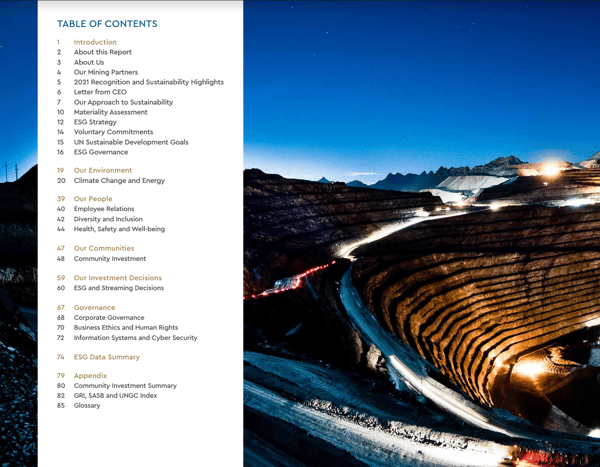 Make it Flow
The information should be linked in a way that makes it easy to understand. The content should have a natural flow, this can be done by segmenting the report into chapters or categories of information. Be sure to include a table of contents with clear headings and subtitles so readers can easily navigate their way through the report.

Make Data Visual
Infographics and colour coded charts are a great way to showcase data visually, especially when these reports tend to have plenty of useful numbers. It gives the numbers more meaning and transforms the stats to become more relatable to the reader.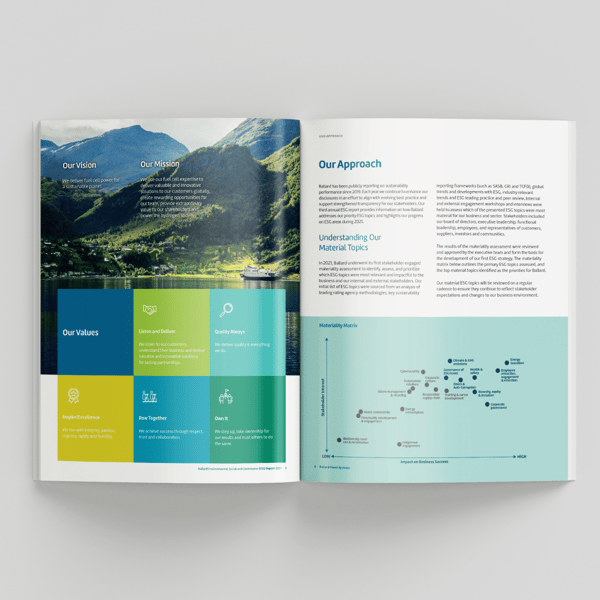 Use Engaging Images
Include images that capture the reader's attention and help tell the corporate story in an engaging way and support the theme of the report. Eye-catching photography can immediately engage and excite your readers. It can also reflect your brand experience and highlight the real people behind the company. Additionally, using infographics can help your readers digest any complex information in your sustainability and ESG report.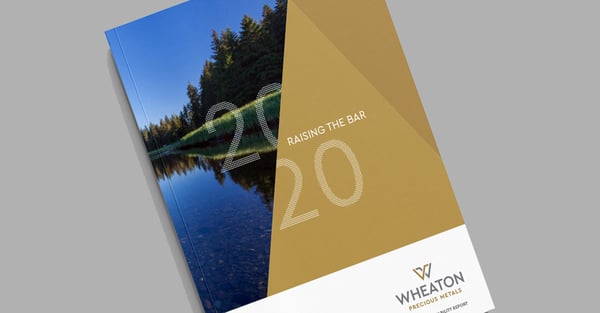 Go Bold With Typography
Make numbers and headings interesting and eye-catching with typography. Bold typography can be a delightful and lively element to work with, and can effectively extend your branding by drawing attention to visual elements included in the report. Read our article on how you can communicate greener annual report design here.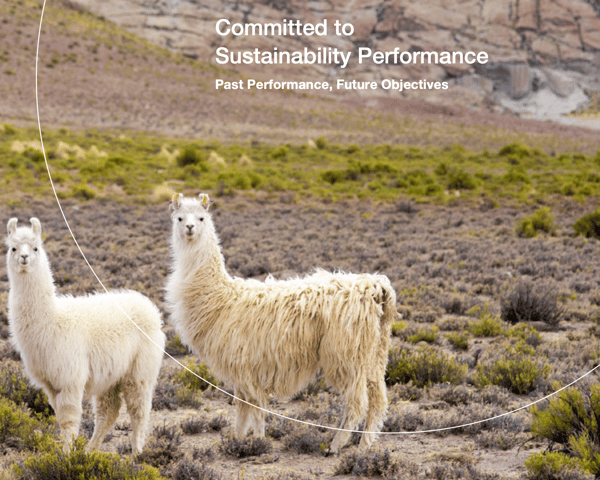 Use Space Wisely
When designing the report and ensuring that space is being used wisely, we can prevent the reader from being overloaded with the information that is packed in the document. Remember to stay consistent throughout the report when using space to avoid overwhelming the reader.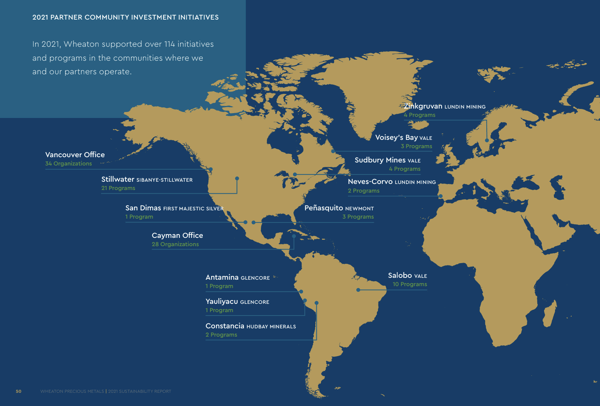 Conclusion
There you have it! Our top seven tips for amazing annual sustainability and ESG report design. The most important thing to remember is, make company annual sustainability and ESG reports your stakeholders will love to read! Engaging and pleasant design combined with your company's key messages are a powerful way to connect with the people who matter most to you, win over important shareholders and partners, and reap the benefits of sustainability reporting.
At Red Rocket Creative Strategies, we are a team of strategists and thought leaders with over 20 years of experience designing annual reports and sustainability and ESG reports. Contact us to get started on your report today.
What's next? Check out our free white paper below to learn more about how you can create an exceptional sustainability report for your company.

Principal & Marketing Strategist A results-driven creative thinker, Perry is a marketing management professional with a proven record of achievement in Strategic Planning, Team Leadership, and New Concepts Development.