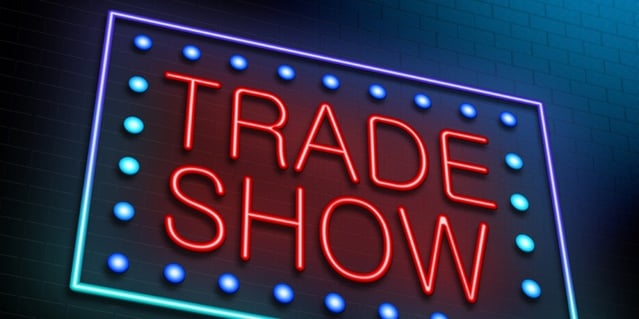 Fact: It takes attendees less than five seconds to walk by a 10-foot booth - a very small window of opportunity that requires a properly designed trade show booth to peak audience interest.
As we all know, attending a trade show as an exhibitor isn't cheap. In addition to the often-hefty exhibitor fees, there are a number of other costs to consider; transportation (to and from the show), accommodations (if out of town) and staffing, not to mention the cost of the trade show display and the all-important marketing materials.
If you think about it, once you've targeted a particular venue, and have considered your expected sales return from exhibiting, the cost of a well-designed trade show display can be easily justified. After all, the primary reason for exhibiting at a trade show is to find new customers. Without well-designed graphics to attract attendees, you may never have an opportunity to qualify them as potential customers. Your exhibiting endeavours could literally be over before they begin. The following are my suggestions to help you get noticed at your next show:
Keep it Simple and On Message
I know it's tempting to want to use your display to explain everything about your company and what you do – we see it all the time. It may make for interesting reading, but attendees really don't have the time or the patience to read through it. Instead, try using short, clever messaging that will appeal to your target audience. This will generate more interest and curiosity in your company. Remember: the main purpose of your display is to peak the interest of attendees walking by your space. Once your display has their attention, your staff can tell them your story and qualify them as potential customers.
Get Noticed
When it comes to display graphics, I believe bigger is better. Consider a display style that is right for you and the events you'll be attending. Take advantage of the size of your display by using large, bold images to enhance your company's presence while remaining consistent with the branding message. Always make sure your corporate logo (and website) are identifiable and placed where people can see it from the aisles. QR codes are a great way to direct potential clients to specific areas of your website.
Be On Brand
Your display graphics should be an extension of your current corporate brand. They should reflect the style, colours and imagery used in other corporate marketing materials. This consistency and continuity will help potential customers identify your space quickly as well as reinforce the image your company is wanting to project.
Be Flexible
Display systems are often designed to work for only one single configuration. Consider one main display panel to grow your system around. This allows your display to work in smaller venues as well as that 20-foot space by simply expanding on the main panel or adding individual free-standing panels. This may also prove to be cost-effective in the long run as the need for updating specific display panels is inevitable.
It Doesn't Have to be Complicated
Display systems have come a long way over the years. Today there are so many different system styles to choose from. The combination of advanced printing technologies and new lightweight materials has made attending a trade show so much easier. Long-gone is the need for complex, backbreaking installations. Today even the most eye-catching display systems are quite manageable to transport and easy to assemble
Be Prepared
So once that all-important attendee enters your "sell zone" - then what?
Staffing your booth with friendly, approachable, well-informed individuals is critical to a successful show. In fact, the performance of the staff in the booth can account for up to 85% your show's success, so give them the tools they'll need.
Attendees will be looking for detailed information on your products and services relative to their industries. Ensure your marketing materials are up-to-date and plentiful. Consider offering materials that are not only informational but also memorable. A well-branded piece that stands out from the others at the end of the day will certainly get a second look. You never know whose desk it'll end up on!
Trade shows are expensive and very time consuming, but if done right and with a little luck, they can payoff big time! So if you or your company is considering participating in upcoming trade shows remember that a little preparation and foresight will go along way. If you are ever in doubt, maybe, we can help…
---

Principal and Managing Director Gil is an award-winning Creative Director who balances a keen design sense with the ability to translate abstract concepts into dynamic visual tools for marketing and corporate communication. 
He's an expert in using traditional and online media to elevate corporate visibility and deliver bottom-line results.