---
If you really want to get your message across to key stakeholders, you need to leverage awesome visual content.
Did you know, people can recall 65% of the visual content they see almost three days later? In contrast, they can only recall about 10% of written content after three days.
But for those of us without formal training, even small design tasks can feel daunting. Luckily, they don't have to be impossible. Armed with a few key pointers and a careful eye, almost anyone can boost their design game. Here are seven essential tips to get you started.
1. Learn How to Use Fonts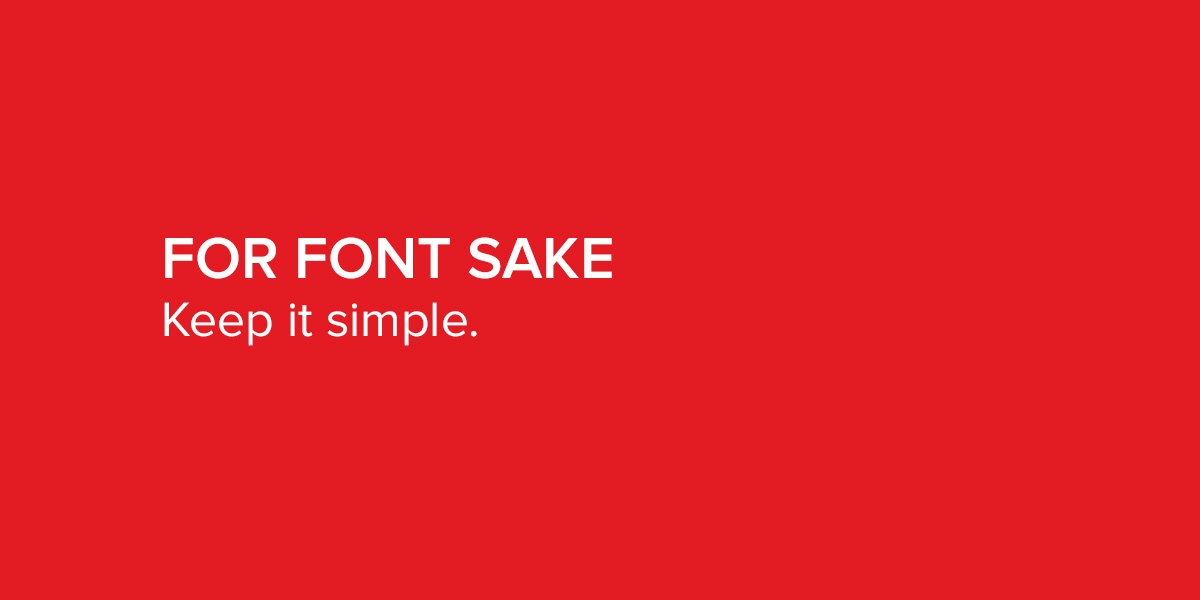 Just because you've heard it before, doesn't mean it isn't true. When it comes to fonts, keep it simple! Using too many fonts at once can look cluttered and confusing. For a sleek, streamlined design, stick to just one or two fonts and use the various font weights to create hierarchy.
Keep it in the Family: For a design that is consistent and exciting, try mixing variants within a single font "family". For example, the family Arial includes options such as Arial Black, Arial Narrow, and Arial Rounded MT Bold. Although each of these family "members" looks and feels unique, there are enough commonalities to make the group appear cohesive. However, note that buying quality font families can be expensive. To save on costs, check out fonts.google.com for hundreds of free, timeless options.
Brush up on your font psychology: Did you know that san-serif, serif, brush, and calligraphy each affect readers differently? Make sure you understand the science behind your fonts, rather than simply choosing whatever's popular at the moment. These helpful infographics are an easy way to learn more, fast.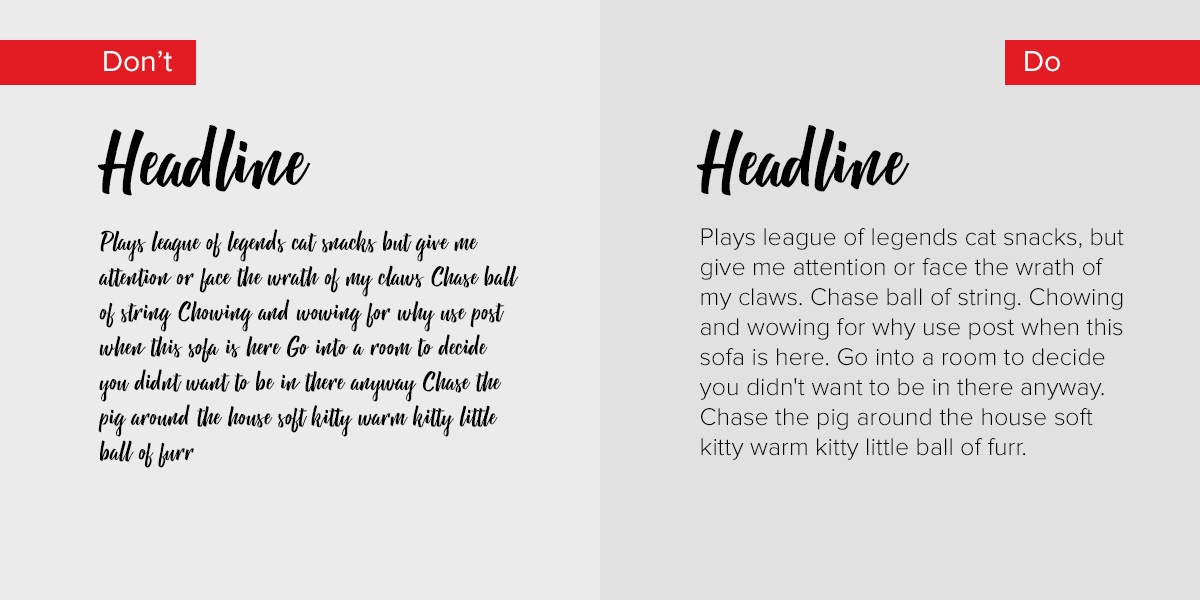 Use your fonts wisely: The right fonts can look terrible when misplaced! As a basic rule of thumb, choose stylized fonts for headings and easy-to-read traditional fonts for your body copy.
2. Be Choosy With Your Colours
Pick an awesome colour palette: If you have existing branding in place, you'll want to stick to that colour scheme for consistency, but otherwise, this is an opportunity to have some fun! Checking out sites like Adobe Color Wheel or coolors.co can be an easy way to get started.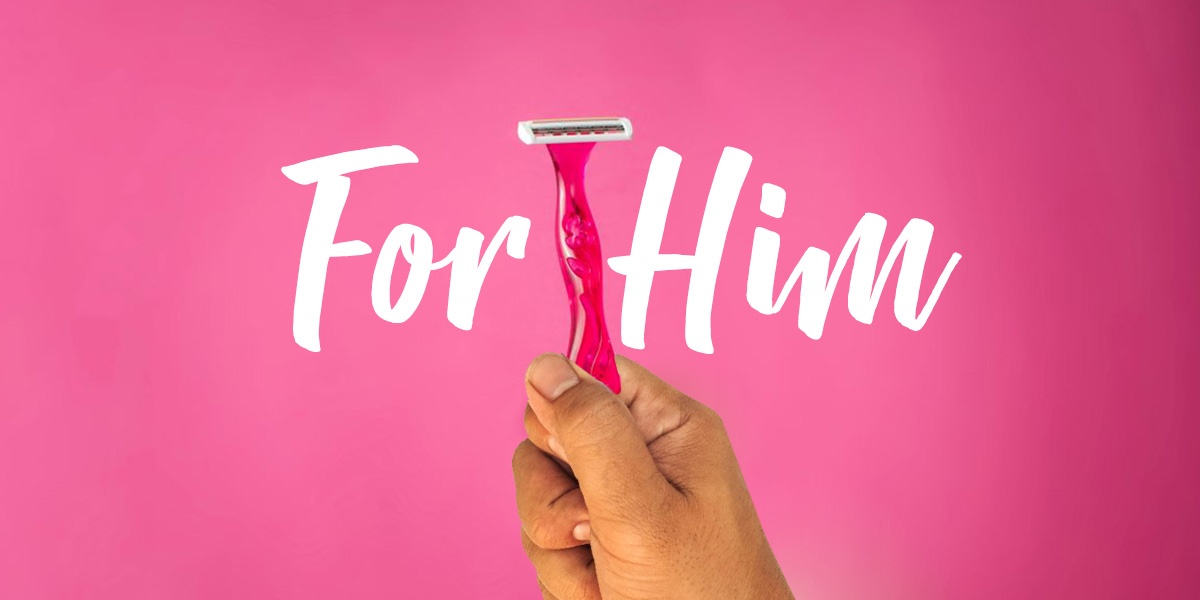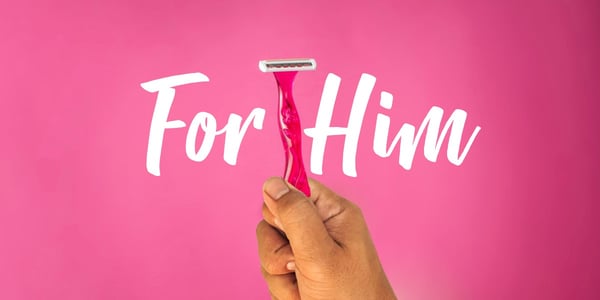 You wouldn't choose pink as your primary colour if your main demographic was men. Just like fonts, colours also have a psychology to them. Before deciding on a final palette, make sure you know the basic colour theory behind your selection.
3. Know That Less is More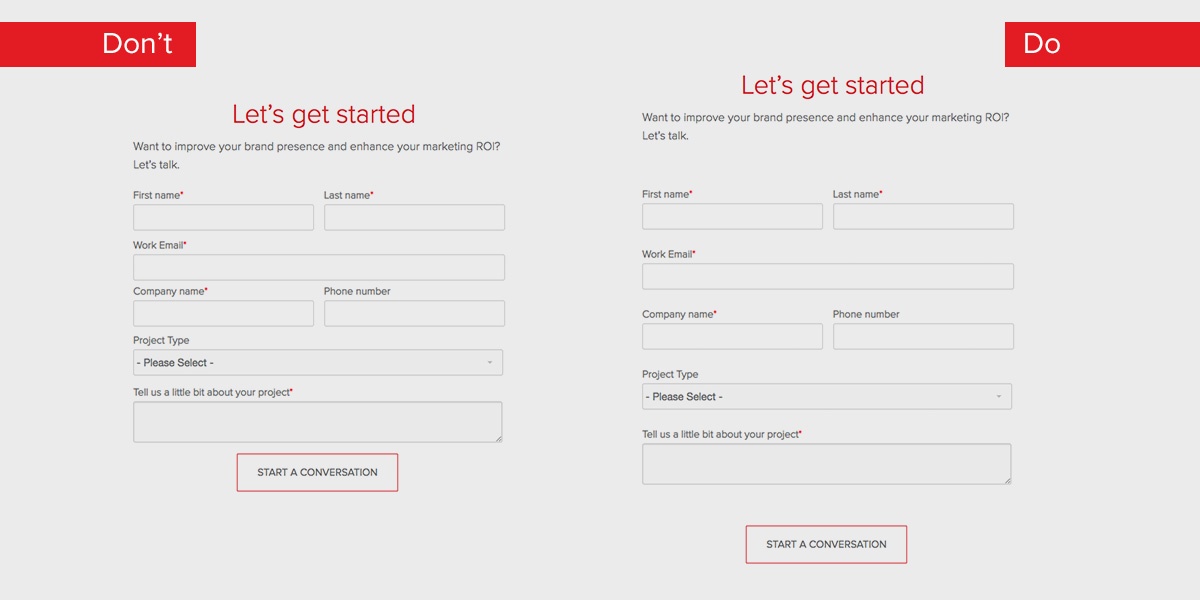 Celebrate simplicity: Many non-designers feel an urge to fill up an entire page, but among professionals, this is considered over-designing. If there's anything we can learn from Apple, it's that whitespace is powerful. Remember to leave your images and text some room to breathe.
4. Create Rules and Stick to Them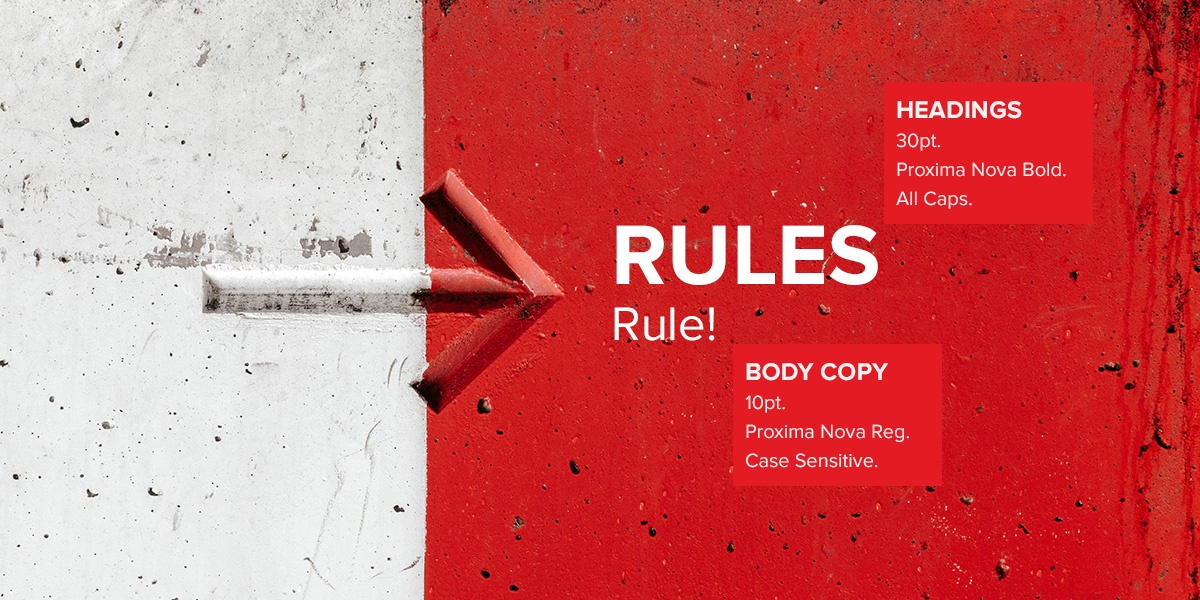 Whenever you create a document, start by selecting a heading, sub heading, and body size, and then stick to these styles throughout your design. By setting yourself clear, easy-to-follow rules, your end product will look and feel more harmonious.
Plus, it will make your life simpler! You can save a lot of time by creating one or two templates for whatever you're working on and relying on those for future tasks.
5. Check Out the Competition! (It's not cheating, I promise)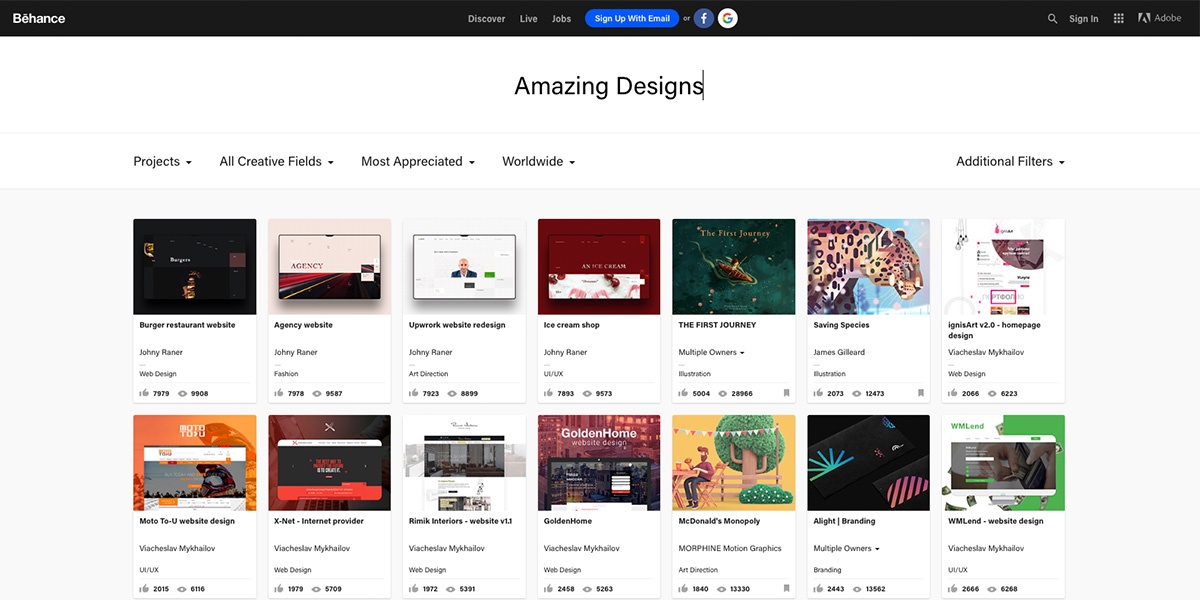 Strong designs come from strong inspiration. Keep tabs on what your competition is doing to learn what you need to improve on yourself. As long you aren't ripping off someone else's design, referencing examples can give your work an extra edge. To get started, check out sites like Pinterest, Dribbble, or Behance.
6. Don't Skimp on Photography
When it comes to photos, unique content is always going to make you stand out from a crowd. Make sure to use high-quality, well-lit imagery wherever possible.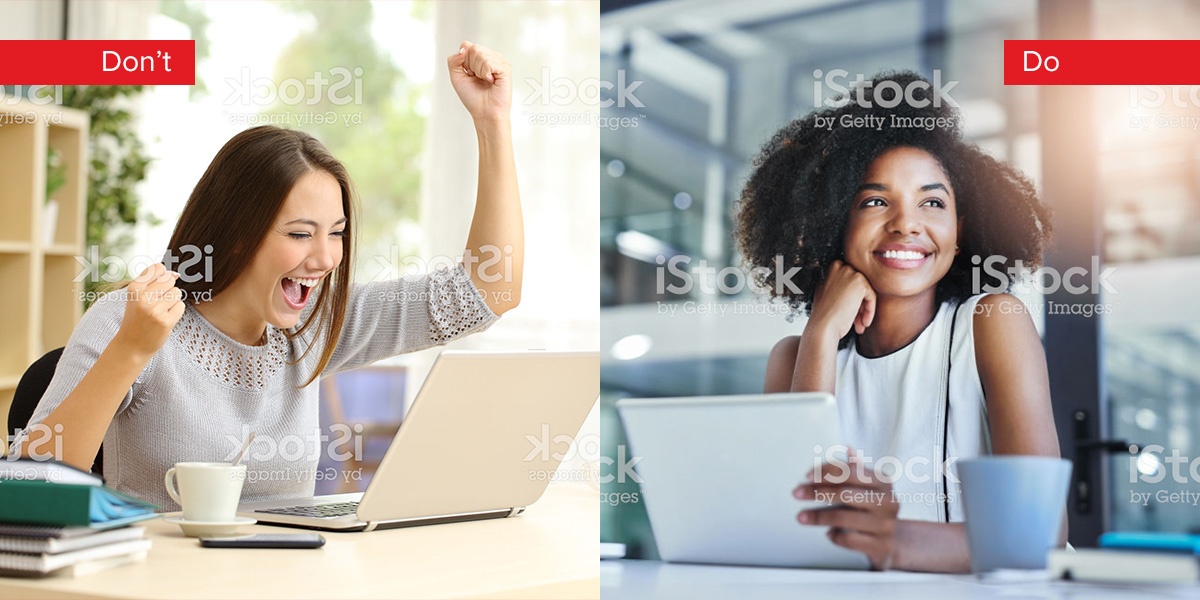 Don't have the time or skill to take your own photos and can't afford to hire a professional? Using stock images can be an excellent option. Just be sure to avoid overly posed or staged shots, and remember to credit the creator if you are re-blogging or using content produced by someone else. Not only is this a basic sign of respect, it's also important for avoiding copyright issues.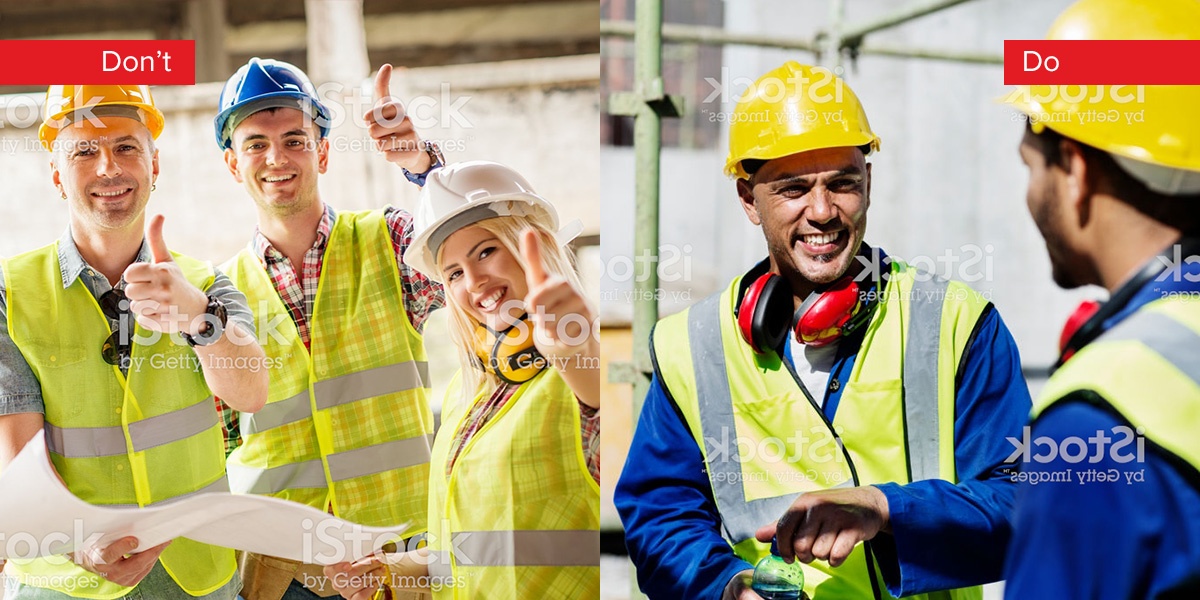 7. Remember, Design is a Degree
Finally, don't be too hard on yourself! Remember that professional designers have spent years studying the psychology and user experience of colour, layout, and type. These tips are a great way to get started on creating content for your own business, on your own terms. But if you find yourself getting stuck or overwhelmed, it's always okay to seek the help of a professional.
Final Thoughts
Well designed visual content is essential for businesses to communicate key messages to your audience. I hope these seven basic tips have given you the inspiration you need to start designing your own beautiful content, and getting your message out there.
Have a design question for us? Write it in the comments below and we'll get back to you asap.
Next Step:
Download our whitepaper: Creating Brochures That Work