Your brand is the emotional and psychological connection your customers have with your company, product or service. It's their collective perception and impression.
Because it's shaped by public perception, your brand is somewhat like a living thing. It has a unique personality and characteristics that evolve over time, due to internal and external factors.
Branding is the act of shaping the public's perceptions. You can control the visual and verbal expressions of your brand, but sometimes – without appropriate strategy and action – your brand can become something undesirable.
That's why it's so important to periodically complete a brand audit in order to track the health of your brand and help you determine what your next steps should be. In this article, I'll give you five steps you can use to conduct a brand audit for your business.
What are the benefits of a brand audit?
A brand audit is a thorough analysis of how your brand is currently performing in relation to its goals. It's an examination of your brand's position in the market compared to its competitors.
(If you're at all confused by the terms surrounding branding, I encourage you to first read our blog, "What is a brand?")
A brand audit will help you:
Establish the performance of your brand
Discover the strengths, weaknesses, opportunities, and threats to your brand
Align your strategy more closely with the expectations of your customers
Understand your place in the market compared to your competition
A brand audit can be time-consuming. But it's important to see it as a strategic investment that can lead to an increase in future profits. The healthier your brand is, the more market share you'll likely gain.
Now that you understand the importance of a brand audit, we can get started with our five-step brand audit process.
5 Steps for Conducting an Effective Brand Audit
1. Create a detailed brand audit framework
The first step is to look internally and identify your company's mission and strategic objectives.
Some internal brand audit questions to ask are:
What are the goals for your brand?
Who are your target customers and how do you plan to reach them?
What's happening in the landscape your business operates in?
This action helps you take an honest look at your brand.
Dissecting the pros and cons of your existing brand allows you and your team to have an honest look at it. You'll be able to see it in a similar way your stakeholders (often subconsciously) do.
2. Analyze your social media and website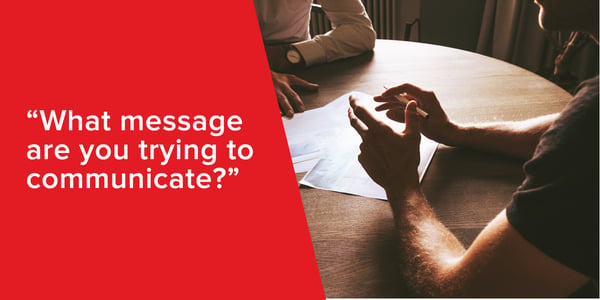 After creating a framework for your audit, the next step is having an honest look at your social media efforts and your website.
Find answers to the following questions:
What message are you trying to communicate? Does your messaging mirror brand standards?
How are you engaging with your stakeholders online?
How are your stakeholders engaging with you?
Are you reaching the audience you want?
Is your brand meeting their expectations?
3. Talk to your customers and potential customers
Your brand is always changing. Therefore, getting regular feedback from your customers is essential in keeping it healthy, alive, and effective.
Though examining your brand's online presence is a key element of a brand audit, it's a mistake to rely on it exclusively when investigating customer perceptions of your brand. Questioning your customers directly can give you powerful information about their thoughts and feelings.
Some effective questions to ask include:
If there was one thing you could change about our brand, what would it be?
What words would you type into Google to find a brand like ours?
If our brand was a person, what words would you use to describe it?
4. Evaluate your brand assets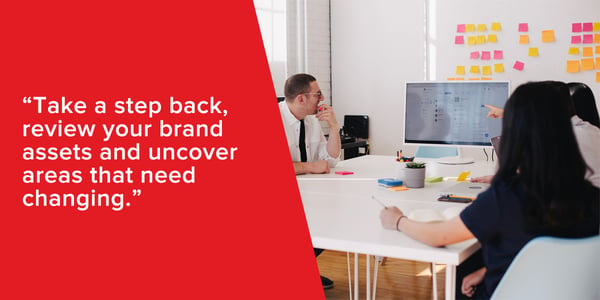 A key part of the brand audit process is reviewing your current brand assets. Often times an older brand can get disjointed and applied in inconsistent ways over the years. Evaluating your brand assets gives you the opportunity to take an inventory of where your brand identity is applied and how it's used.
Taking a step back and reviewing your brand assets as a whole will likely uncover areas that need changing. Additionally, introducing a third party—like a branding agency—may offer a more critical eye.
Brand assets are divided into two separate categories: internal and external. When looking at your internal brand assets, you need to evaluate your:
Brand and product/service positioning
Brand voice
Brand values
Unique selling proposition
Corporate culture
Internal communications
Your external brand assets include:
Brand identity system, including your logo and all supporting graphic materials
Print materials such as brochures, stationery, business cards, and trade show displays
Website
Social media
Advertising
Public Relations
Sponsorships & memberships
Digital marketing assets including blogs, white papers, case studies, and videos
5. Examine your competitors
Once you've reviewed your own assets, you'll need to widen your scope to apply the same evaluation to your competitors.
You'll want to find out how your competitors compare with you in terms of internal and external assets. It's unlikely you'll have access to their internal assets, but try to get as much information as you can.
Final Thoughts
Conducting an effective brand audit is no easy task. It takes a strong commitment from all company leaders, as well as dedicated time and resources. However, if you do it right, a brand audit will reveal all of the areas that need improvement and lay the foundation for a rebrand – if that's what's needed.
Once you've established those parameters you'll know the best route of attack, and how to proceed in creating a stronger and more engaging brand.

Art Director Angela takes every project through a demanding creative process, beginning with research and analysis, continuing to brainstorming and conceptualization, before presenting her design solution. She is a highly creative and pragmatic team player. With a broad range of creative experience, Angela has the ability to see even the most difficult design challenge to completion.